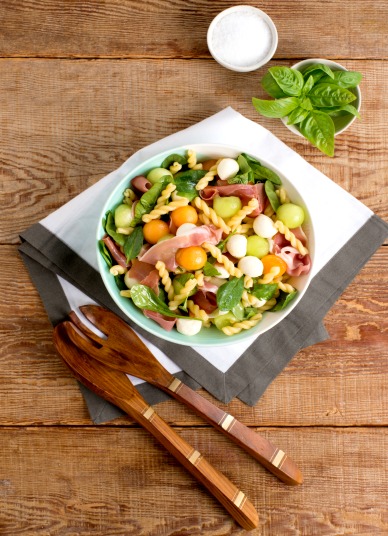 With summer now in full swing, it's time to break out the summer pasta salad recipes! A cold pasta salad is the perfect component to every barbecue, all summer long. Whether you're a meat-eater or a vegetarian, a refreshing pasta salad is the best way to complement your meal with plenty of healthy veggies and fresh, delicious flavors.
Today's guest post recipe is courtesy of the great folks over at Pasta Fits.
Melon and Prosciutto Pasta Salad Recipe
4 oz. gemelli
3 tbsp. olive oil
2 tbsp. white wine vinegar
1 tsp. honey
1/4 tsp. each salt and pepper
1/2 small honeydew melon (12 oz.)
1/2 small cantaloupe (12 oz.)
12 cocktail bocconcini (about 3 oz.)
3 slices/1.5 oz. torn prosciutto
4 cups/4 oz. baby spinach
1/4 cup torn fresh basil leaves
Directions:
1. Cook gemelli according to package directions. Drain and let cool completely.
2. Meanwhile, whisk together olive oil, vinegar, honey, salt and pepper; toss with pasta.
3. Using melon baller, scoop out 12 small balls each melon and cantaloupe; add melon balls, bocconcini and prosciutto to pasta. Toss well to combine. Stir in spinach and basil.
Tip:
• For a simple variation, substitute crumbled feta cheese for bocconcini and mint for basil.
Disclosure: This is a guest post. No monetary compensation was received.