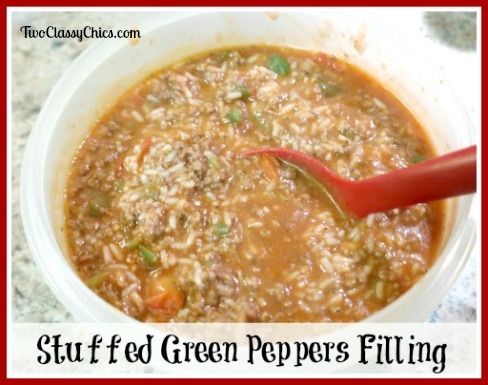 My family loves homemade Stuffed Bell Peppers and I try to make them several times every year for them to enjoy. During the summer months, I make them even more often, since I'm trying to use up the peppers, onions and tomatoes from my backyard garden.
As my bell peppers, tomatoes and onions get harvested, I make up a big batch of the Stuffed Bell Pepper Filling to freeze for later use. Then during the winter season, I can make them quickly and easily…without any mess!
Here's how I make the filling and below that you can read how I like to use it during the wintertime.
1 to 2 green bell peppers, seeded and chopped
1 small onion, diced
6-7 small Roma tomatoes or 8 cherry tomatoes, sliced or diced
1 lb. lean ground beef
1 bag of quick-cooking white rice
water (for boiling the rice)
1/2 tsp. Adobo
1/2 tsp. salt
1/2 tsp. ground black pepper
1 tbsp. basil
1 tbsp. oregano
2 tsp. parsley
1/2 tsp. chili powder
2 tbsp. brown sugar
1 large can tomato sauce
In a large frying pan or stir-fry pan simmer together the lean ground beef with the chopped bell peppers, dice onion and diced tomatoes until the ground beef is no longer pink. Drain away the grease.
Return the pan to the burner and over medium heat stir in the tomato sauce and spices. Simmer on medium heat for 2 minutes and then reduce the heat to low.
While the meat mixture is simmering, place water into a saucepan and cook the quick-cooking white rice according to package instructions. Once done, remove from heat and drain the water away.
Once the rice is done, pour it into the meat mixture and stir to combine all of the ingredients. Cover and simmer over low heat for 5 minutes. Turn off heat and let it sit in the pan for 5 additional minutes.
Spoon filling into freezer containers. We freeze our's in 3/4 cup portions. In other words, I estimate that each bell pepper will utilize 3/4 of a cup of filling when I go to make them. Since it's just the two of us, I freeze our filling in portions to equal the stuffing of 4 bell peppers. (I typically make four at a time for our dinner).
Once the filling is cool, place the lid onto your container, label and freeze.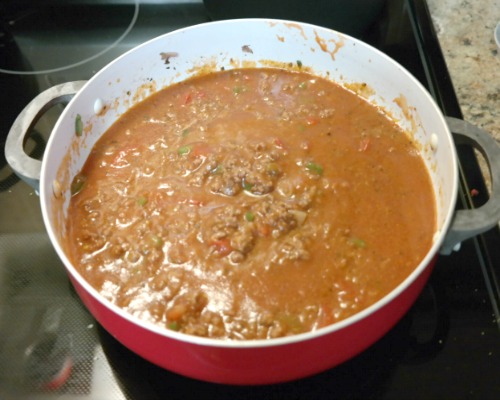 Making the Stuffed Green Peppers:
In the wintertime when I go to the store I will pick up fresh bell peppers along with shredded cheese. I wash them, remove the stem & seeds and hollow them out. I thaw out my pepper filling in the refrigerator the night before. Once thawed, spoon the filling into the pepper shells and place into a baking dish.
Bake them in a preheated 350 degree oven for 20 to 25 minutes or until done. (You'll know that they're done when the pepper skin starts to crinkle & wrinkle). Remove and place a little shredded cheese on the top, place baking sheet back into the oven for 2-3 minutes (to just melt the cheese). Remove and serve immediately.
* This post contains affiliate links. If you make a purchase, we may or may not receive a small commission which helps to support this site. Thank you!
Note: This is a great way to preserve some of my bell peppers, onions and tomatoes from my garden during the summertime. Then when winter rolls around, I can make our Stuffed Green Peppers in the oven. By doing it this way, I'm saving a lot of time, mess and of course, we're enjoying our own organically-grown veggie filling.
If you have a LOT of whole bell peppers from your garden that you want to freeze for later use, you can certainly do that! You can find my How to Freeze Bell Peppers for Later Use article right here on our blog. Plus, you can find my Unstuffed Green Pepper Soup Recipe (great for the slow cooker) on the blog too!