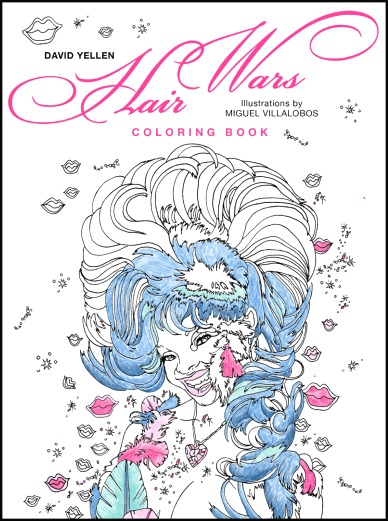 From the real world of competitive Fantasy Hair styling comes Hair Wars Coloring Book. Based on the popular powerHouse book Hair Wars by David Yellen, which was shot at Fantasy Hair competitions across the country, these larger-than-life dos are now ready for your touch. Drawing inspiration from everything from 9/11 to the Olympic Games, these hairstyles include motifs such as a gigantic bowl with live Japanese fighting fish, a beehive that blows soap bubbles, and the classic Sunday barbecue.
* Complimentary Coloring Book Received for Review.
Featuring 30 original drawings by artist Miguel Villalobos, this coloring book lets you get in on the action and be part of the fantasy. Pull out your Crayolas and markers and set your imagination loose on these amazing hair sculptures.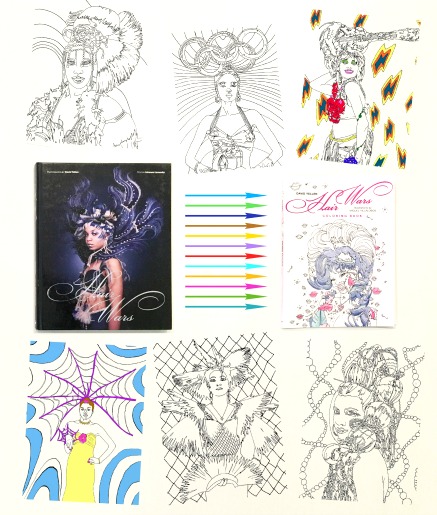 Title: Hairs Wars Coloring Book
Author: David Yellen
Illustrator: Miguel Villalobos
ISBN: 978-1-57687-846-0
I jumped on the adult coloring book bandwagon about 3 years ago as a way to relax, de-stress and to explore my creative aspirations. I love to color in-the-designs and then take those work's of art and turn them into some type of paper craft project. Often times I use the finished designs in my scrapbooks, handmade greeting cards, as laminated bookmarks, small-package gift wrap, laminated refrigerator magnets and so forth.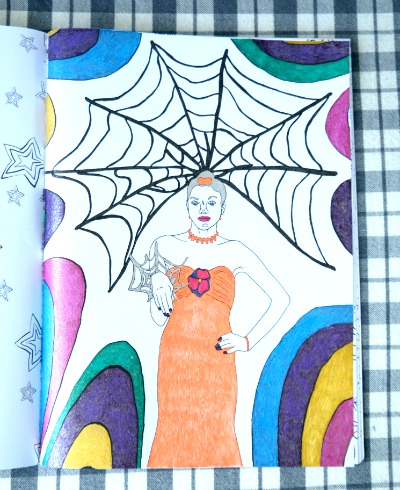 This adult coloring book is very unique and different than other books in my collection. The designs are fun, wild and CRAZY! They're very detailed in their style and super fun to color. There are 30 original drawings in this book, so they will keep for busy for several weeks! You can use glitter gel pens, colored pencils, markers or even crayons to complete them. On the sample page that I did for the review…I used glitter gel pens and the design turned out funky and cute. I tried to use a lot of Halloween colors, since the design featured cobwebs which remind me of that season.
What a fun way to explore your creativity! I think the designs are a lot of fun and my ONLY recommendation for improvement would be to print them on perforated pages, so that people can easily remove them from the book without messing up the binding. In my case, I took the binding a part and I'm storing them in a folder (to keep them nice), until I can get them all colored in. Fun!
You can find this title and many other great books at the publisher's website – powerHouse Books.
* This post contains affiliate links. If you make a purchase, we may or may not receive a small commission which helps to support this site. Thank you!

Disclaimer: Shelly received a complimentary product as featured in this blog post. No monetary compensation was received. Shelly's thoughts and words are 100% her own unbiased opinion on the company & products being featured today. The Two Classy Chics are not responsible for prize shipment or fulfillment.