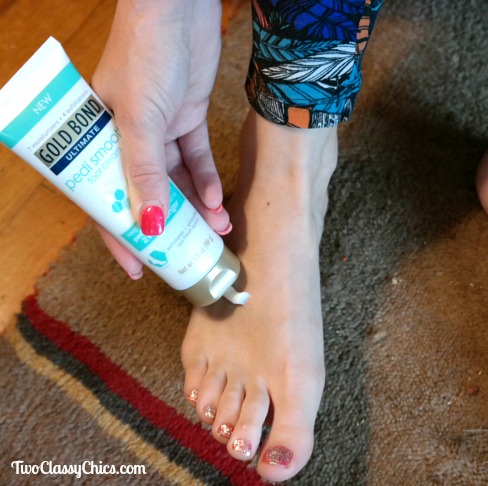 Every 10-14 days I give myself an at-home pedicure and once every 8 weeks, I go out and get it professionally done. I'm one of those gals who hates "naked" toes and I take great pride in showing off my pretty feet. I'm always looking for ways to extend the life of my pedicure and foot-spa treatments!
* Complimentary Product Received for Review & Feature.
Let me introduce you to the brand new Gold Bond Ultimate Pedi Smooth Foot Cream which will help to extend the life of your pedicure! It doesn't matter if you do it yourself or get it professionally done, you need this foot cream!
What is this new foot cream? Well, I'm going to tell you!
* Gold Bond Ultimate Pedi Smooth is a new foot cream that is specially formulated to keep that soft, smooth pedicure feeling for up to 2 weeks longer!
* Its formula contains a gentle exfoliating complex of 4 hydroxy acids (exfoliators), plus 7 intensive moisturizers (including cocoa butter & shea butter), and 3 good-for-your-skin vitamins.
* It features a fresh spa scent.
* Gold Bond Ultimate Pedi Smooth has a unique formulation that has clinically shown to exfoliate and smooth dry, rough skin. It is the most exfoliating foot cream ever created by the trusted Gold Bond brand.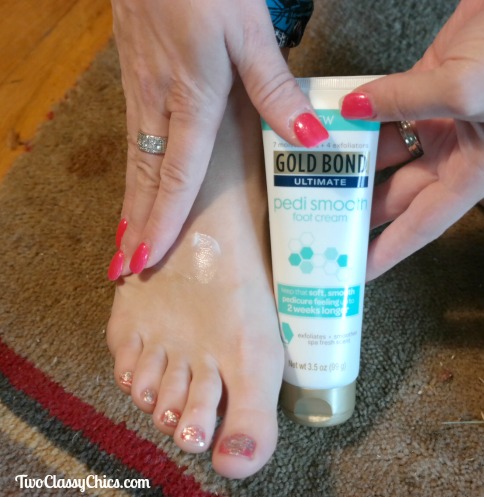 How to Use: Apple once or twice daily to your feet. You'll want to use a sunscreen on your feet if you plan on getting any type of sun exposure. Discontinue use if you experience any burning or irritation after application of the product.
My Thoughts: I've been using the product once a day on my feet for the past two weeks. I can honestly tell you that my feet feel softer, than ever! You just squirt some of the foot cream onto your foot and gently massage it in. You don't rinse it off at all. It absorbs quickly and leaves no sticky residue behind. The bottom's of my feet and around my toes feel super-soft and I've noticed that all dry patches are gone. This cream doesn't help to extend the life of your polish, just the overall softness of your feet after getting a pedicure. Even my technician told me that my feet looked really good when I went in for a recent appointment, so I told her about the new product that I was using. She was really impressed with what she saw and I'm equally as impressed on how soft my feet feel.
You can learn more about the product on the company's website and connect with the brand over on Facebook. Make sure you print off the money-saving coupons on their website before heading out to the store!
* This post contains affiliate links. If you make a purchase, we may or may not receive a small commission which helps to support this site. Thank you!

Disclaimer: Jenelle C. has personally reviewed the product listed above. Jenelle has not received any monetary compensation for her review. Jenelle did receive a free product to try out so she could evaluate and use it for her review. Her thoughts & opinions in this review are unbiased & honest and your opinions may differ.  Please read our Terms of Service & Disclaimer Policy before entering the giveaways. Thanks!