I love gardening and that includes growing my own indoor plants. Most of my weekly gardening features the past few months dealt with outdoor ideas, tips and information. My feature this week deals with putting together your own little indoor air plant terrarium!
What's really cool about making your own terrarium, you can make them in a variety of different containers, use different plants and add-in your own little decorations. Since I decorate in a coastal and beach theme…mine is indeed in a coastal design! Here's how I've made mine.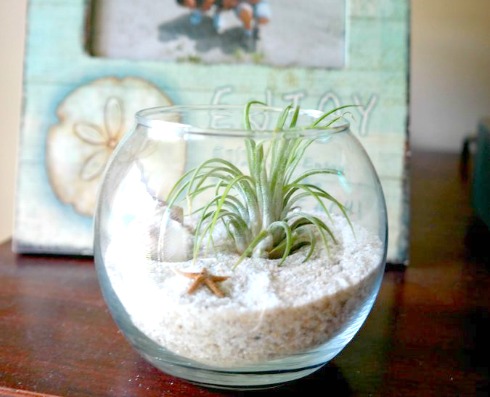 Gardening: Making Your Own Air Plant Terrarium
Clear Glass Fish Bowl
1 1/2 to 2 cups Real Beach Sand (not craft sand)
Air Plants
2 Mini Seashells
1 Mini Starfish
1 Mini Sand Dollar
I bought my clear glass fish bowl for $2.00 at a local craft store. You want to give them a good cleaning and make sure they're thoroughly dry before placing anything inside it. Don't use chemicals to clean it as you don't want any residue left behind. I used an all-natural liquid soap, rinsed it well and then air dried overnight.
It took approximately 1 1/2 to 2 cups of beach sand to fill by fish bowl a little over 1/3 of the way full. It's actually between 1/3 and 1/2 full. Remember, there is a difference between sand that is used for crafting and real beach sand. I brought my sand home from the beach a few months ago in a baggie. Make sure the sand is thoroughly dry before placing it into the fish bowl.
Air plants don't get buried and don't have roots like traditional plants. I sit mine on top of the sand, slightly nestled into the sand, but not much. Every week I take my little air plant out and use a water bottle to mist it (to water it). I turn it upside down on my bathroom vanity and let it air dry for about 4 hours before placing it back into the bowl. Don't mist them while they're in the bowl!
To add that beach feeling to mine…I added in a few miniature seashells, a sand dollar and a tiny starfish. Isn't it cute? They're super easy to make and you could make a whole bunch of them to give as gifts or to keep for yourself.
* This post contains affiliate links. If you make a purchase, we may or may not receive a small commission which helps to support this site. Thank you!