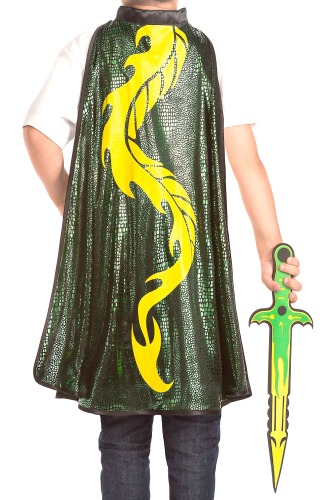 When my daughter was a little girl they didn't have dress-up clothing like they do now. Back in the 80's and early 90's, parents were forced to buy crappy Halloween costumes or make dress-up clothing themselves. Looking back, I think childhood had to be pretty boring at times for my daughter.
Fast forward 30 years and now parents and grandparents can find quality-made clothing and costumes that are specifically designed for creative play. When children dress up, it really helps them to play the part that they want to play. It helps to expand their creative little minds and keeps them entertained for hours on end.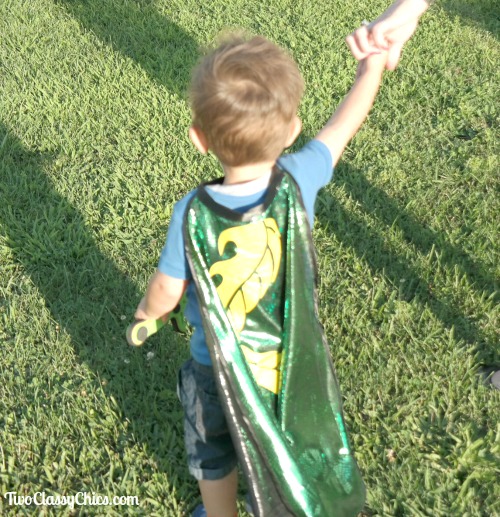 Let me introduce you to Little Adventures who markets their little kid's dress-ups, clothing and costumes here in the USA and around the world. The company sells soft, washable, affordable dress ups. The company was started 15 years ago by two moms who were tired of itchy, scratchy dress ups that fell apart and were not washable.
When you shop at Little Adventures you'll find Princess dresses & costumes, fairies & dance clothing, knights & dragons clothing, super hero cloaks for little boys, toys, accessories and more!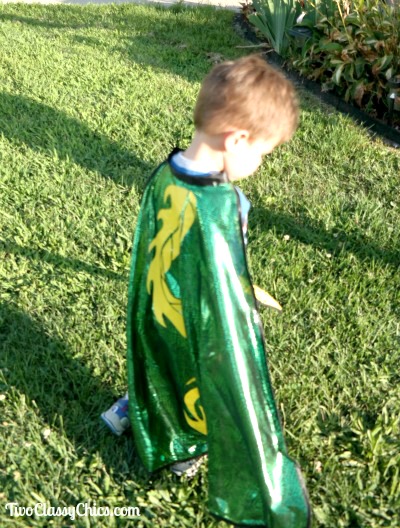 For this feature we were sent the adorable little boy's Adventure Dragon Cape & Sword Set. This set is for kids ages 3-8 years of age. My grandson is just about 2 years old and loves this set, even though the cape is just a tad too long for him right now. But…as you can see from my photos, he was running around slaying my bushes (the bad guys) and wouldn't stand still for me to get a clear shot. Yup, he loves  this set!
The cape measures 24″ from neckline to the bottom hem. It's machine washable (I would hang to dry) and features an adorable shiny dragon scale print. It's comfortable for the kids to wear thanks to the velcro closure at the neckline. It's a LOT cuter than what my photographs show!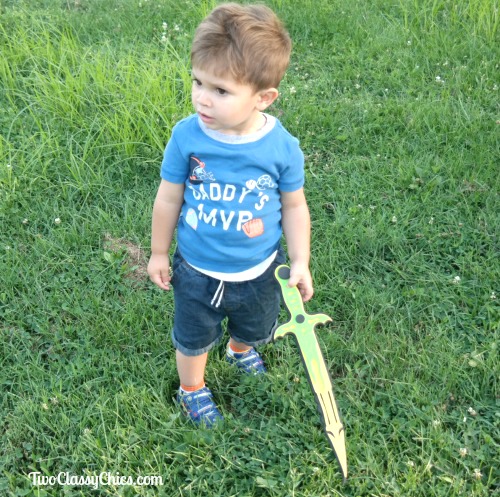 To go along with the cape is a foam sword. I appreciate that it's made out of soft foam, this way kids won't get hurt, nor will they hurt our household items! Prince is 2 years old and was able to safely play with the sword. He's younger than the recommended age, but we keep a close eye on him when he's playing.
The very first day that I gave him the cape & sword he wore it for an entire 3 hours. When it came to naptime, I had to fight him to get the cape off…but he snuggled that foam sword like a stuffed animal and slept with it! LOL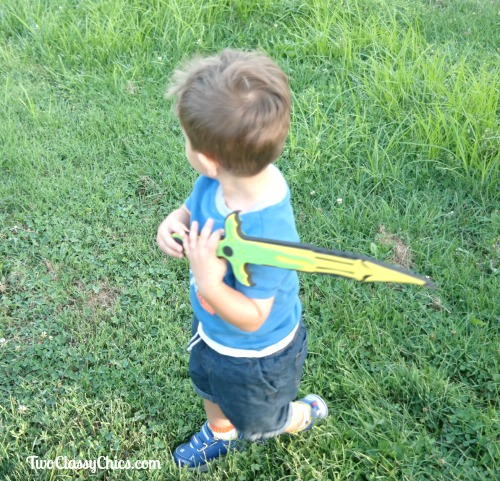 I think dressups and costumes for kids are so much fun! It helps them to play creatively and to play the part they're trying to represent with style. You can use these for creative play time and then use them for Halloween or to attend costume parties. So much fun!
Head on over to Little Adventures to check out all of their adorable little girls and boys dress-up clothing items, costumes and accessories. You can check the company out on Facebook too.
Reader's Discount: Get 15% off your total purchase when you use coupon code tcc15% during the checkout process. Don't delay, the coupon is good until August 30th, 2017.

Disclaimer: Shelly received complimentary products to feature in this blog post. Shelly did not receive any monetary compensation. Shelly's thoughts, opinions and words are 100% her own unbiased opinion. Your thoughts may differ.