Got little ones who love Daniel Tiger? I know my 23 month old son enjoys watching Daniel Tiger on TV. If you've got little fans, guess what? A brand new DVD release is here!
DANIEL TIGER'S NEIGHBORHOOD fans are in for a "royal" treat when PBS Distribution releases "DANIEL TIGER'S NEIGHBORHOOD: KING DANIEL FOR THE DAY," the newest DVD featuring seven engaging stories from the hit PBS KIDS series DANIEL TIGER'S NEIGHBORHOOD, produced by The Fred Rogers Company.
When Daniel is declared "King for the Day" by King Friday, he is sent on a royal mission to Baker Aker's bakery and Music Man Stan's shop. While out in the Neighborhood completing King Friday's list, Daniel learns that the most important part of being King is helping others and being kind to your neighbors! In this tigertastic DVD, Daniel also helps celebrate Prince Wednesday's birthday, shares a book with O the Owl at the library, and takes care of the class pet!
"DANIEL TIGER'S NEIGHBORHOOD: KING DANIEL FOR THE DAY" will be available starting September 5, 2017. The DVD has a run time of approximately 110 minutes and it's SRP is $14.99. Episodes of DANIEL TIGER'S NEIGHBORHOOD are also available for digital download.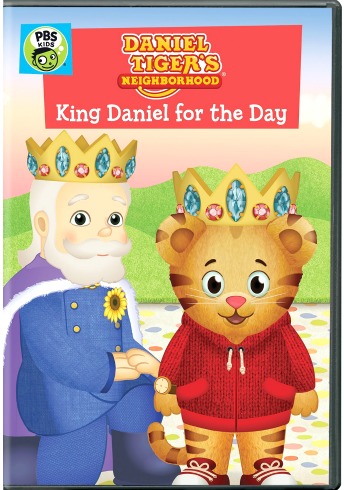 Stories featured on the new DVD include:
"King Daniel for the Day" (extended adventure)
In this special full-length episode, Daniel Tiger is curious about what it's like to be King. There's only one way to find out…King Friday makes Daniel "King for the Day!" On his royal mission, Daniel discovers that the most important part of being King is being kind to his neighbors.
"Prince Wednesday's Happy Birthday"
Happy Birthday, Prince Wednesday! Daniel heads to the castle for Prince Wednesday's birthday party. He is happy to be with his friends, play games and eat royally yummy birthday cake.
"The Neighborhood Fall Festival"
The neighbors are busy decorating for the big Fall Festival when a gust of wind knocks down Music Man Stan's hard work. Daniel and his friends help rebuild the scene and learn that everyone's abilities are different – what's important is that you do your best.
"Daniel Takes Care of Snowball"
It's Daniel's turn to take care of Snowball, the class pet, at home today. When Prince Wednesday invites Daniel to play, he has to decide what the best thing to do is: take care of Snowball or go and have fun with his friend. Daniel learns that it's fun to take care of others and it makes him feel happy.
"Looking for Snowball"
Oh no! Snowball, the class pet, has gone missing! As all the neighbors band together to search for Snowball, Daniel realizes how good it feels to be a part of a neighborhood. But will they find Snowball?
"Sharing at the Library"
Daniel is at the library to check out a new book. Just as he spots the book he wants, O the Owl reaches for the same one! Who knew that sharing a book with a friend could be even more fun than reading it alone?
"Daniel Shares with Margaret"
Daniel gets a special sticker book from Grandpere, but Margaret wants to play with the stickers, too. Daniel learns that while sharing can make things more fun, there are also some things you don't have to share.
DANIEL TIGER'S NEIGHBORHOOD, which debuted in September 2012, airs daily on PBS KIDS (check local listings).
* This post contains affiliate links. If you make a purchase, we may or may not receive a small commission which helps to support this site. Thank you!
Giveaway: One lucky winner is going to win the Daniel Tiger's Neighborhood: King Daniel for the Day DVD. Good Luck!
Giveaway Details: This giveaway is open to residents of the US ONLY age 18 and over. Please read our Terms of Service & Disclaimer Policy before entering. This giveaway will close on September 14th, 2017 at 11:59 pm EST time. No purchase necessary to enter or win.
Disclaimer: This is a courtesy post. No product or compensation was received. TwoClassyChics is NOT responsible for shipping the prize to the winner, it will be shipped to the winner directly from the sponsor. Please read our rules and guidelines before entering the giveaway.