AMERICAN HERITAGE® Chocolate has a unique place in the history of MARS, Inc. and in the hearts and minds of people all over America who appreciate an artisanal, authentic approach to making and celebrating chocolate. Conceived of, and crafted by, a dedicated team of historians and the legendary advocate of American History and chocolate's unique story in the Americas, Forrest E. Mars, Jr. in 2006.
To celebrate chocolate's global influence on our American culture, a story of connection that brings people together, spanning time and place, AMERICAN HERITAGE® Chocolate invites you to try their recipe below. The recipe will yield approximately 8 servings.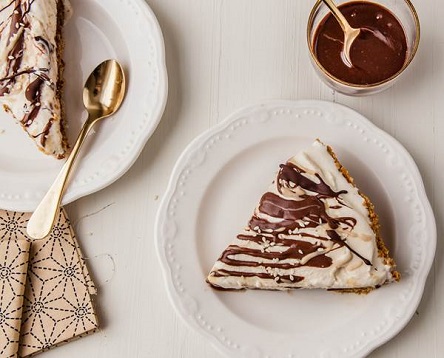 Chocolate and Tahini Ice Box Pie Recipe
For Chocolate Sauce:
3/4 cup cream
2 Tbsp. granulated sugar
2 Tbsp. unsalted butter
2 blocks (6 oz) AHC chocolate, chopped (or 3/4 cup drink mix)
1 tsp vanilla extract
For No-Bake Graham Cracker Crust:
9 whole graham crackers
7 Tbsp. unsalted butter, melted
1/4 cup packed brown sugar
Pinch of salt
For Tahini Ice Cream:
Two pints Vanilla ice cream, softened out of freezer for 30 minutes
3 Tbsp. tahini
For Chocolate Sauce:
1. In a medium saucepan over medium heat, combine all ingredients and whisk until melted, about 5 minutes. Set aside.
For No-Bake Graham Cracker Crust:
2. In the bowl of a food processor fitted with a blade attachment, pulse the graham crackers into a fine crumb. Add the remaining in ingredients and blend until combined.
3. Press the graham mixture into a 9-inch pie plate and set aside.
For Tahini Ice Cream:
1. In a large bowl, mix the softened ice cream with the tahini.
2. In the pie pan lined with graham cracker crust, place ½ cup of the chocolate sauce and spread evenly over the bottom of the crust. Add all of the tahini ice cream, cover with plastic wrap, and freeze for at least 3 hours, until set.
3. When ready to serve, reheat the chocolate sauce over low heat until warm. Drizzle the pie with the warm chocolate sauce and extra tahini, serve immediately.
* This post contains affiliate links. If you make a purchase, we may or may not receive a small commission which helps to support this site. Thank you!
Disclosure: This is a guest post recipe. We're not responsible for typographical errors.