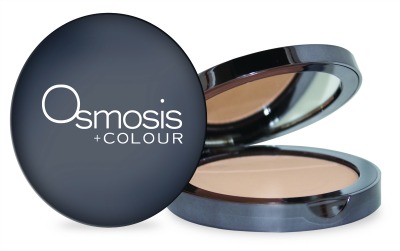 When it comes to make-up, I look for products that are mineral-based, all-natural and/or organic. My skin is very sensitive, so I can't use beauty and skincare products that are loaded with chemicals. I like a more "natural" approach and I need them to feel good on my skin.
* Complimentary Product Received for Review and Inclusion.
Let me introduce you to the Osmosis Colour Pressed Base Mineral Foundation which is a great for women who don't like using a heavy liquid foundation or a pore-clogging powder. What is really cool about this product? It's available in 14 different shades, so you can definitely find a shade to match your skin-tone.
The Pressed Mineral Foundation will shield your skin from UVA and UVB rays and it offers a constant SPF 27+ protection, once applied evenly all over your face. It gives you flawless and seamless coverage with a semi-matte finish. It t applies quickly and easily with no mess.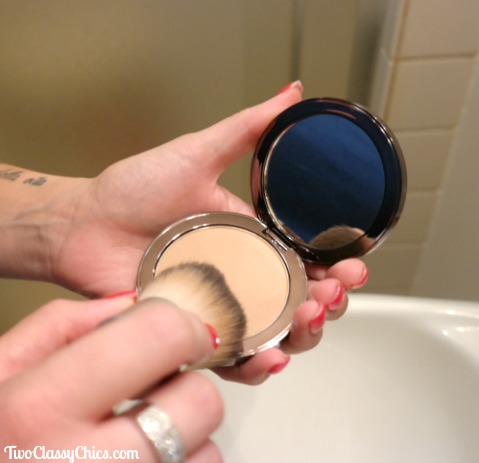 For this review I received the natural medium shade and it's absolutely perfect for my skintone, especially during this time of the year when I have a little bit of a tan. When I apply it, I like to use a small foundation brush. I did try to apply it with a cosmetic sponge, but didn't like the application that way. I got the BEST coverage by using my brush.
I've been using this product for over 2 weeks now and I really love the coverage that I get. A little bit goes a long way! It does a great job at covering up any blemishes that I want to hide, helps to cover up dark under-eye circles and my skintone looks more even. My age spots are barely visible after I've applied it.
The Osmosis Colour Mineral Pressed Base Powder feels light and airy on my skin, unlike similar products that are heavy and clog my pores. I use it as my canvas and then I can layer other products on-top if I choose to do so. Finally, I apply the product onto my skin in the morning and I'm done. It lasts all day long, until I take it off. By the way, it washes off really easily with a little soap & water or with your favorite cleanser.
Since receiving it…I've tossed out my liquid foundation and my pressed powder. I'm absolutely in-love with the Osmosis Colour Mineral Pressed Base Powder! Yup, it's my new must-have and go-to in my beauty bag!
You can learn more about Osmosis Skincare Products and Color Cosmetics by visiting the company's website online.

Disclaimer: Shelly H. received a complimentary product to feature & review on this blog. No monetary compensation was received. Shelly's thoughts, opinions and words about the product are 100% her own, unbiased opinion. We are not responsible for injury or mis-use of any products won from the The Classy Chics Blog. Please read our Terms of Service & Disclaimer Policy before entering our giveaways. Thanks!