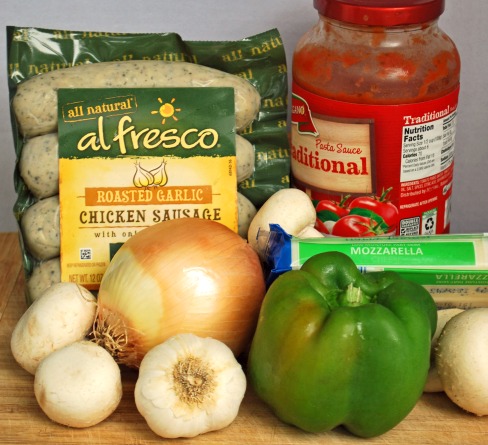 Calzones are a favorite dinner at our house. They're economical, you can fill them with pretty much anything (great use for leftovers), and you eat them with your hands. What's not to like?
* Complimentary Products Received for Recipe Feature.
For this recipe, I used al fresco roasted garlic and herb flavor chicken sausages. Because they're fully cooked, they're perfect for adding to veggies, cheese, and a bit of tomato sauce for a delicious calzone filling. I used these versatile sausages recently in my Chicken Sausages with Vegetables and Rice recipe, and Shelly had a similar take using al fresco Sweet Italian Style Chicken Sausages with her easy weeknight Chicken Sausage and Seasoned Rice. Check out all of al fresco's all-natural chicken products and more recipes at their website and their Facebook page.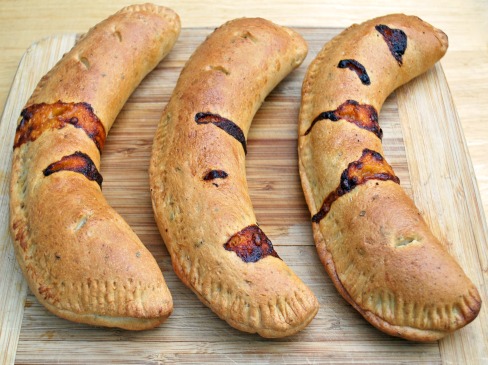 Notes about my recipe: I make pizza dough in my bread machine, adding about a half-tablespoon each of dried basil and oregano, but store-bought pizza dough would be fine. Other cooked vegetables could be substituted or added to the filling; broccoli would be delicious here. Although al fresco recommends leaving the pork casings on the sausages to help retain moisture and flavor, I removed the casings because I don't eat pork; you could skip that step if you choose.
As written, this recipe makes three huge calzones. Alternatively, one pound of dough could make four medium calzones or six smaller ones. Feel free to divide the dough to make your calzones in whatever size works best for you, making sure to adjust the amount of filling in each so as not to overstuff them.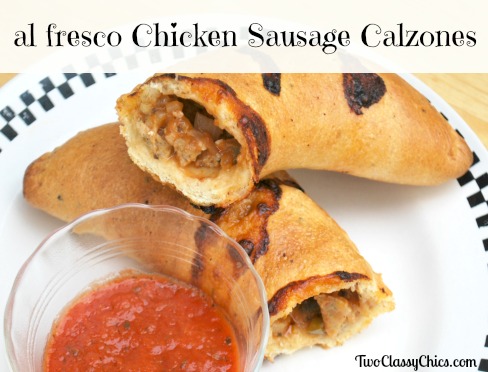 al fresco Chicken Sausage Calzones
makes 3 very large calzones
• 1 pound pizza dough, room temperature
• 1-2 tbs olive oil
• 3/4 cup finely chopped onion
• 1/3 cup finely chopped green pepper
• Salt
• 1/2 cup chopped mushrooms
• 2 cloves garlic, minced (about 1 tbs)
• 2 al fresco chicken sausages (roasted garlic and herb flavor), casings removed if desired, quartered lengthwise and sliced 1/4" thick
• 3/4 cup marinara sauce
• 4 ounces shredded mozzarella cheese
• Water
Divide the dough into three equal pieces; shape them into ovals, cover them with plastic wrap, and set them aside to rest and rise.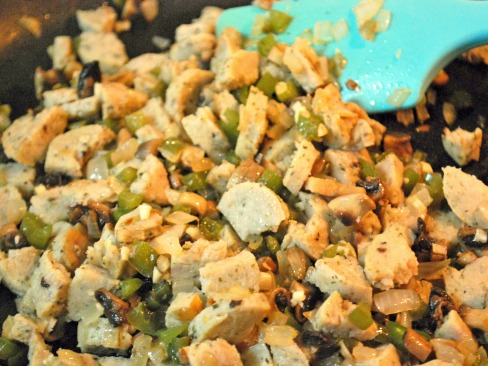 Heat the olive oil in a large skillet over medium-low heat. Add the onion and green pepper, sprinkle with salt, and cook for about 10 minutes, until softened. Add the mushrooms and cook for about 4 minutes, until the mushrooms begin to release their juices. Stir in the garlic and cook for 1 minute more. Gently stir in the al fresco chicken sausage pieces and the marinara sauce. Remove the pan from the heat.
Roll the dough ovals into rectangles about 10" long and 5" wide.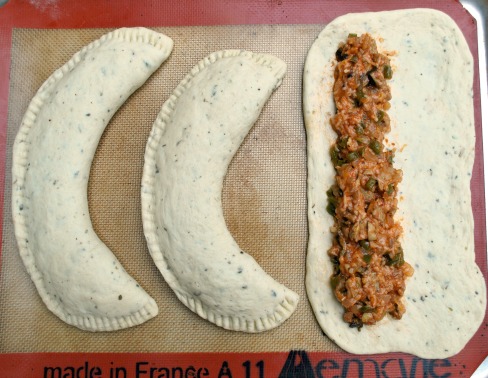 Stir the cheese into the cooled filling mixture. Taste it and add more salt if needed. Spread 2/3 to 1 cup of filling along one half of each calzone, leaving about an inch at the edge. Dip your finger in water and moisten the dough along the edges of each calzone. Pull the dough over the filling and press along the edges to seal it, then use a fork to crimp and seal the edges. Curve each calzone into a half-moon. With a sharp knife or kitchen scissors, cut a few small openings in the top of each calzone to release steam. Bake the calzones in a preheated 425°F oven for 20-25 minutes, until they're golden brown. Serve the calzones with additional marinara sauce for dipping.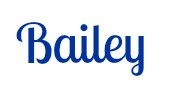 Disclaimer: A. Bailey received complimentary products for review purposes & feature on The Classy Chics blog. No monetary compensation was received. A. Bailey's thoughts, opinions and words are 100% her own. Your thoughts may differ.