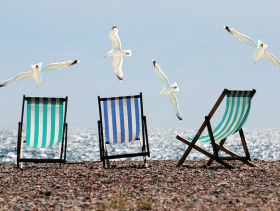 Welcome to the Friday, July 14th, 2017 ~ the Week in Review post! I will be doing these posts every Friday to update you all on what happened throughout the week, so everyone can get caught up on the things they may of missed!
Quote of the Week: Cleaning your house while your kids are still growing up is like shoveling the walk before it stops snowing. — Phyllis Diller
Giveaways:
Dreamworks Trolls & Goody Hair Accessories Prize Pack
Fair Foods All-American Cookbook
Smurfs: The Lost Village Animated DVD Movie
3-Piece Bath & Body Set – Reverie Farms Soaps
Reviews:
Oogie's Rainy Day Adventure Children's Book
5 Must-Have Summer Beauty Essentials + Skin Care Tips
Articles, Tips, Crafts, Gardening & Recipes:
Korean Honey BBQ Skewers Recipe
Gardening: Shelly's Gardening Projects & Ideas
Grilled Honey BBQ Wings Recipe
Kid's Craft Project: Beaded ID Name Bracelets
Massive Hornet's Bees Nest in Roof Rafters – VENT
Mama Mancini's Meatball Pizza Recipe
Walmart's Scorching Summer Savings
Let's Talk Baseball! Family Fun at a Phillies Game
Sheet Pan Salmon with Crispy Kale Recipe
Dieting or Fasting – Which is Better?
Why is it that summertime seems to fly by fast, while wintertime seems to drag-on forever? It's hard to believe but we're almost halfway through the month of July already. We've been slowing things down around here as my mom has been traveling and I've been trying to hold down the fort while working a FT job and taking care of the kids. In 2 weeks we'll be back to our normal schedule here on the blog, so please be patient! We hope everyone is enjoying their summer so far. Have you went on vacation yet or gone somewhere special?