This summer, supercharge your traditional BBQ, picnic and poolside cocktail recipes with cocoa. Cocoa-inspired comfort foods such as BBQ baked beans, spiced corn, flatbread pizza, and wings are simply more decadent when paired with a hint of cocoa and chocolate, adding a unique depth of taste.
Today's guest post recipe is courtesy of THE COCOA EXHANGE™'s POD & BEAN™.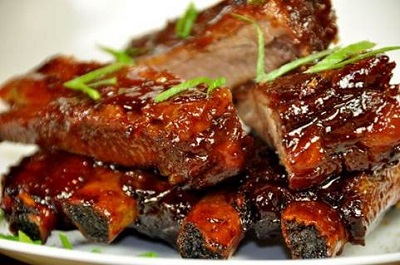 Sticky Teriyaki Pork Ribs Recipe
FOR RIBS
2 racks of pork ribs (around 3 lbs. each; Baby back or St. Louis cut)
1 cup POD & BEAN™ GINGER ORANGE TERIYAKI
1 cup granulated sugar
1/2 cup dry sherry or Japanese cooking wine (sake)
1/2 cup soy sauce
1 piece of ginger, washed and sliced into rounds
5 garlic cloves, smashed
2 tsp POD & BEAN™ CANTONESE SEASONING BLEND
5 green onions (scallions); cut white part into 1-inch and green part into garnishing size
FOR THE GLAZE
1 (10.5 oz.) jar of red pepper jelly
1/2 cup cider vinegar
1/2 tsp POD & BEAN™ CANTONESE SEASONING BLEND
green onion (scallion) garnishing from above
1. Preheat oven to 350 degrees and put rack in middle position. Remove the skin-membrane on the backside of the ribs but loosening with tip of knife and grabbing loosened piece with paper towel; pull skin-membrane off slowly.
2. In a large roasting pan, mix Ginger Orange Teriyaki sauce, sugar, sherry/sake, soy sauce, ginger, garlic, Cantonese blend, and white sections of the green onion. Coat ribs with mixture, place rib (meat side down) in pan; cover pan tightly with foil. Cook until tender (about 2.5 hours).
3. After ribs are done, collect/strain 3 cups of cooking liquid from roasting pan and put into a large sauce pan (throw away the solids and remaining liquid if any). Skim the fat from the liquid in the sauce pan. Mix in the red pepper jelly, vinegar, and Cantonese blend. Bring to simmer and reduce for about 15 minutes (should end up with about 2 cups of a syrup-like liquid). Turn off heat and let cool.
4. Turn on oven to broil (keep rack in middle position). Put a cookie cooling rack onto a sheet tray (with a rim), place ribs meat side down on rack and brush with glaze. Broil ribs until they begin to brown (about 2-3 minutes). Flip ribs, repeat process. Do this a few times over until you get a deep brown sticky glaze covering the ribs. This is an important step so watch ribs carefully so you don't burn them!
5. Let ribs rest once completed for 10 minutes, slice between bones, sprinkle with garnishing green onions and some Cantonese Blend — serve with remaining glaze if desired.
Chef Tips:
* Pour a 1/2 cup of water into the sheet tray while broiling the ribs – helps make the clean up process easier at the end!
* Make life easier for yourself and heat up some Uncle Ben's® Ready Rice to pair with the roasted veggies and ribs!
* These ribs are sticky! Squeeze ½ a lemon into a small container of water and have several paper towels soaking in the liquid; this lets you eat with your fingers and have a way to clean up!
* This post contains affiliate links. If you make a purchase, we may or may not receive a small commission which helps to support this site. Thank you!