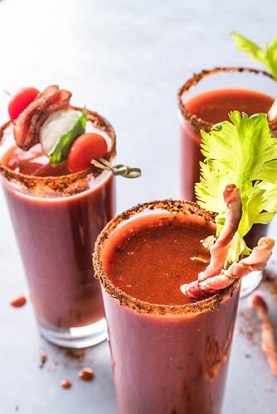 Looking for a great cocktail recipe with just a little bit of a kick to it? Need something different for your next party and tired of the same old, same old cocktail drinks? If so, I think you're going to enjoy our guest post recipe today that's courtesy of THE COCOA EXCHANGE. You can visit their website (link below) for additional free recipes! Looking for more easy-to-make cocktail recipes? You can find cocktail recipes right here on our blog!
Spicy Bloody Mary Cocktails Recipe
32 oz. tomato juice
2 oz. lemon juice (about 2 lemons)
2 oz. lime juice (about 2-3 limes)
4 tsp salt
1 tsp black pepper
1 tsp smoked paprika
5 tbsp horseradish
1 tsp Worcestershire sauce
1-2 tsp POD & BEAN™ CHIPOTLE HOT SAUCE
Directions
1. Pour over ice and serve with celery stalk, olives, or a strip of bacon.
2. To make alcoholic version, add 1 ½ oz. favourite vodka to 3 oz. Bloody Mary base, shake and serve over ice. Garnish.