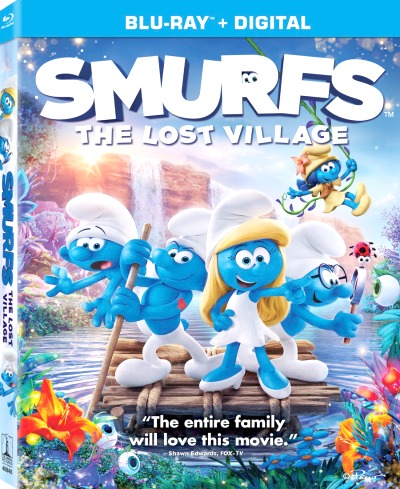 When I was a little girl I used to watch the Smurfs on TV every Saturday morning. It was my routine to get up early on Saturday, grab my breakfast and sit down to watch them. Over the years, I've become an even bigger fan.
Smurfs: The Lost Village is the movie of the summer! It's a great animated for the entire family to enjoy and perfect for an upcoming "family movie night". Check out this video to Demi Lovato's lost audition tape.
You can check out the You Will Always Find Me in Your Heart – Smurf The Lost Village Song Official Soundtrack by singer/songwriter (and mom herself) Shaley Scott performed the track "You Will Always Find Me In Your Heart" for the pivotal moment of the film.
The movie was written by Stacey Harman and Pamela Ribon and directed by Kelly Asbury, and stars the voices of Demi Lovato, Rainn Wilson, Joe Manganiello, Mandy Patinkin, Jack McBrayer, Danny Pudi, Michelle Rodriguez, Ellie Kemper, Ariel Winter, Meghan Trainor, Jake Johnson, and Julia Roberts.
In this fully animated, all-new take on the Smurfs, a mysterious map sets Smurfette and her friends Brainy, Clumsy and Hefty on an exciting race through the Forbidden Forest to find a lost village before the evil wizard Gargamel. Embarking on a rollercoaster journey full of action and adventure, the Smurfs about to discover THE biggest secret in Smurf history!
The new Smurfs: The Lost Village is available on Video-on-Demand, DVD, Blu-ray and 4K. It's available for purchase now.
Giveaway: One lucky winner is going to win the Smurfs: The Lost Village on DVD.
Giveaway Details: This giveaway is open to residents of the US ONLY age 18 and over. Please read our Terms of Service & Disclaimer Policy before entering. This giveaway will close on August 3rd, 2017 at 11:59 pm EST time. No purchase necessary to enter or win.

Disclaimer: This is a courtesy post. No product or monetary compensation was received. We're hosting the giveaway as a courtesy to the company and/or PR firm. Two Classy Chics is not responsible for prize shipping.