During the hot summer months, I find myself using my slow cooker more and more. It's a great time-saver when we're busy doing activities outdoors and it saves me from heating up my kitchen on 90 degree days. I would estimate that I use my slow cooker at least 3 times a week during the hot months of the year.
One of my family's favorite go-to recipes is this pork roast and sauerkraut recipe that is made entirely in your slow cooker (crockpot). Once done, you can serve it over mashed potatoes, baked potatoes or even your favorite pasta.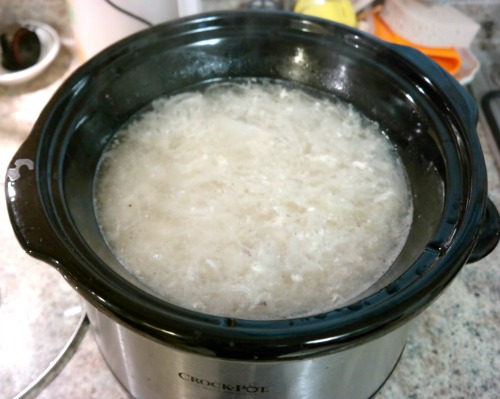 Slow Cooker Pork Roast and Sauerkraut Recipe
2 lb. lean pork roast
1 bag of sauerkraut
2 large apples, peeled, cored and quartered
1 tablespoon dill
1 tablespoon parsley
1/2 teaspoon salt
1/2 teaspoon ground black pepper
water
Season your roast with a little bit of salt and ground black pepper by rubbing the salt and black pepper mixture onto all sides of the roast. Place roast into the slow cooker and fill it up with water. Toss in the quartered apples; cover. Cook on high for 1 hour and then reduce heat to low and slow cook for 4 hours. Use a large spoon or ladle to spoon out the excess water, leaving only 4 or 5″ of water behind. Use a fork and a knife to break of the meat into bite sized chunks. Open up the bag of sauerkraut and dump it into the slow cooker, including the juice. Stir in the dill and parsley. Cover and slow cook on low for 2 additional hours.
During the last 30 minutes of cooking time you'll want to prepare your mashed potatoes, baked potatoes or plain pasta. Whatever you decide to make. We like it served on the top of creamy mashed potatoes, but my mom prefers it served on top of a big baked potato. Once everything is done, serve immediately.
Store all leftovers (once cooled) in an airtight container in your refrigerator. You can freeze the pork and sauerkraut in a freezer container for up to 3 months. When ready to use, thaw in the refrigerator for 12 hours before reheating.
Looking for a new slow cooker? I have three of them and use them all of the time. The last two that I got…I purchased from Amazon and love them!
* This post contains affiliate links. If you make a purchase, we may or may not receive a small commission which helps to support this site. Thank you!