We all know to avoid certain foods (looking at you, sugar) to keep our teeth clean and healthy. But did you know that there are certain foods that you should be eating to make your teeth stronger?
Caitlin Grimes, D.D.S., of StoneCreek Dental Care in Alabama, has compiled a quick and easy recipe that will help keep your teeth strong, vibrant and healthy for years to come (when combined with proper brushing and flossing, of course)!
Salmon is one of the best foods for your teeth — it's high in Vitamin D, which aids your body in the absorption of calcium. Kale, like spinach, is another dark, leafy green with calcium and folic acid. Did you know that folic acid can help treat periodontitis (gum disease) in pregnant women? As an added bonus, this one-pan dish makes for easy clean-up!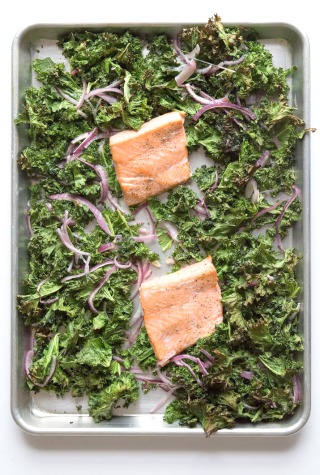 Sheet Pan Salmon with Crispy Kale Recipe (Source: Buzzfeed)
Serving size: 4
Prep time: 20 minutes
1 bunch kale, stems removed, leaves thinly sliced, 5 Cups (approx.)
Kosher salt and black pepper
1 tbsp. Canola oil
2 4-oz. salmon fillets
1/2 Tbsp. Dijon mustard
1 Tbsp. Honey
1 Medium Red onion, chopped
1 Lime
1. Preheat the oven to 450°. Season salmon with salt and pepper.
2. Place the salmon fillets on top of the vegetables. Roast in the oven for 8 to 10 minutes, until the salmon is cooked through.
3. Combine the honey, canola oil and Dijon mustard in a large bowl. Add the kale and onion, season with salt and pepper, and toss to coat the vegetables in the honey-Dijon. Spread the vegetable mixture on a baking sheet.
4. Serve with lime wedges.
* This post contains affiliate links. If you make a purchase, we may or may not receive a small commission which helps to support this site. Thank you!