REEL Lifestyle Outdoor Apparel is more than just apparel, they're a way of life. Founded by a family of outdoor enthusiasts, REEL Lifestyle apparel is dedicated to promoting activities of all kinds in and around the water. Whether you're kayaking down the river, boating on the lake, paddle boarding in the ocean, or fishing anywhere, we want to help you get the most out of living the REEL Lifestyle.
Their goal is to create clothing that offers maximum comfort and style and looks great on every member of the family. By combining great design with high quality fabrics, their easy to wear apparel gives you the freedom your body needs to move around – whether you'd rather be on a gushing river, placid lake or riding giant waves, this line of apparel is for you and your family.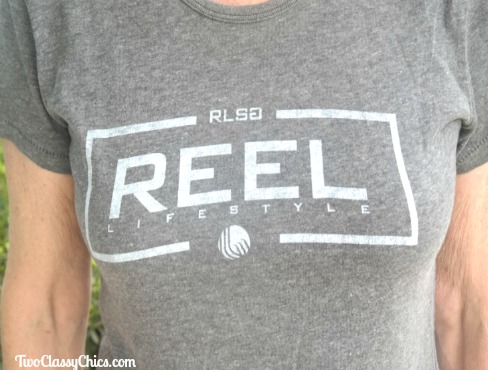 For my review I received a complimentary women's t-shirt to try out for all of you. The design that I received is called the "Keepsake Tee" and I love that the design is on a heather-gray background, so I can wear it with almost everything in my summer wardrobe.
The tee is made out of a 50/50 cotton & polyester blend. It's breathable and super-soft to the touch. It's machine washable and dry. As soon as you put the t-shirt on…you feel cooler! It's a really nice weight, not too heavy, nor too thin…just right.
It features a self-bound neckline, short sleeves, blind-stitch hems and is tagless! I really like the cut & fit of this tee…cut perfectly for a woman's body. I would say that it's a semi-fitted t-shirt and follows the lines & curves of your body. Another thing that I like about it is it's length! It's NOT cropped and not a tunic length, it's long enough to cover the things I want covered & when I bed over, nothing it sticking out. You know what I mean girls!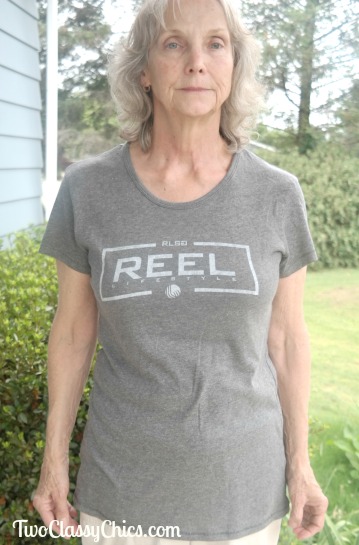 For picture taking purposes, I had my 68 year old mother model the t-shirt for us. Mom isn't great with digital photography, so she ends up being my model. With that said, it fits her body just as nicely as it fits mine. She's bustier than me, but I have a longer torso than her and it fits BOTH of us very nicely.
You can head on over to REEL Lifestyle Outdoor Apparel and check out all of their apparel items for men and women, including their headwear items. You can connect with the company on Facebook too! They love chatting with their fans!

Disclaimer: Shelly received complimentary products to feature in this blog post. Shelly did not receive any monetary compensation. Shelly's thoughts, opinions and words are 100% her own unbiased opinion. Your thoughts may differ.