Pizza…it's one of my family's go-to dinners. They love pizza and they enjoy it made a variety of different ways. Now it's time to say goodbye to that cold, delivery pizza and hello to this fresh and delicious Mama Mancini's meatball pizza that can be ready in minutes!
Today's guest post recipe is courtesy of Mama Mancini's. Not familiar with them? Shelly had the opportunity to review & feature their delicious meatballs right here on the blog. You can re-visit her original review/feature HERE.
When it comes to pizza, do you prefer delivery, store-bought or homemade? What are some of your favorite toppings? Do you like a thin or thick crust? Let's hear about your pizza likes and dislikes!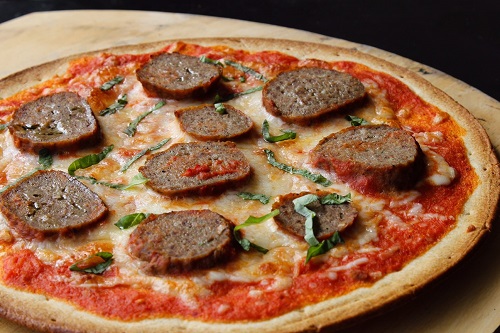 Mama Mancini's Meatball Pizza Recipe
12″ Pre made pizza crust
3 Mama Mancini's Meatballs sliced
1 cup of Mama Mancini's slow-cooked sauce
1/2 cup of shredded mozzarella (more if desired)
Preheat your oven to 450 degrees.
Place the pizza crust on a baking sheet. Spread the sauce on the pizza crust. Top with the mozzarella. Place meatballs on the mozzarella. Place in the oven for 8-10 minutes. Let the pizza rest and cool for a few minutes before serving.