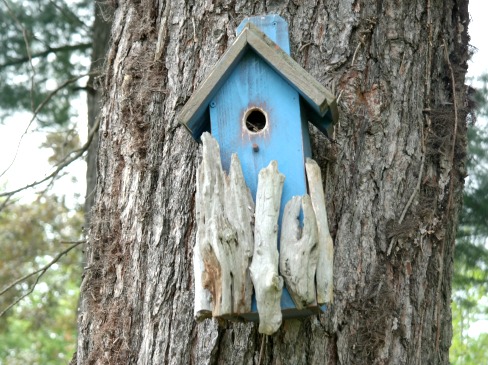 How many of you enjoy gardening, whether that be planting flowers or vegetable gardens? I really enjoy gardening as it's a great way to relieve stress, add beauty to my world and it helps to put food onto the table. I've been gardening for about 7 years now and I'm pretty much self-taught thanks to the internet.
Back in May I started a weekly series of gardening posts here on the blog and many of our readers have been showing interest in them. I hope they've sparked some great DIY ideas in you and that you've enjoyed them. If you've missed any of our special GARDENING FEATURES, you can find them all listed in one special place here on the blog. They will continue until the end of September.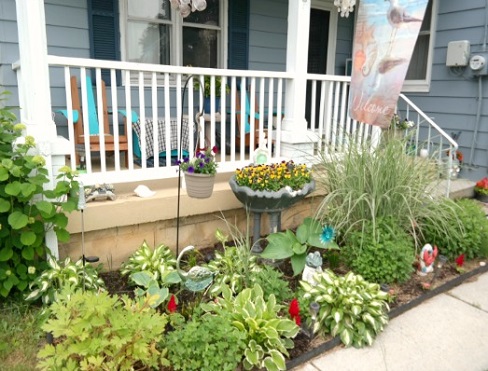 Today I decided to do something a little bit different and give you a peek into my flowerbeds, gardens and some areas that are around my property. When we first moved into this house 4 1/2 years ago, the previous owners had done NOTHING to spruce up the property at all. Sigh.
Since we've moved in….every year we work on projects in and around the house. We've been slowly, but surely beautifying our property to suit our own needs and tastes. We currently have 2 vegetable gardens, several veggie plants growing in containers, 3 blueberry bushes, 6 raspberry bushes (raspberry patch), a strawberry patch and 8 different flowerbeds & mini flower gardens. Oh yeah, I have several container plants and hanging baskets outside too!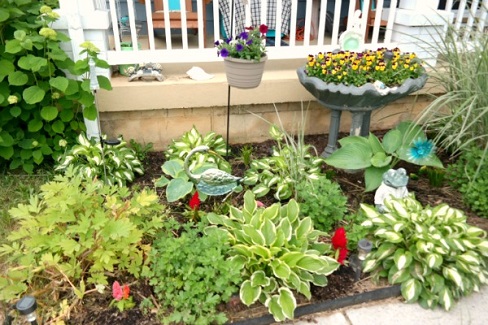 In the second & third photographs you'll see what is referred to as flowerbed #1. We number our areas to make planting & care a lot easier on us. Plus, when I'm telling my husband that something needs to be done in such and such spot, he know's exactly what area (flowerbed or garden) that I'm talking about.
Flowerbed #1 is almost done. We've been working on that one for 4 years now and it's right in-front of our front porch. It gets shade for 1/2 of the day, so I found that bleeding hearts, hosta plants, daffodils (spring), mums (fall), sea grass, purple pansies and a few other things do well in this area. If you look closely, you'll see 2 shepherd's hooks holding hanging baskets that are filled with petunias, an old birdbath filled with pansies, a ceramic frog statue, stained glass sea bird (heron) figure, a red crab statue, several large conch shells & a large beach theme'd house flag hanging above. Oh yeah, to the left in the photo's you'll see my white & purple hydrangea bush and sitting on top of the pansies in the birdbath is my Mermaid Solar Garden Statue.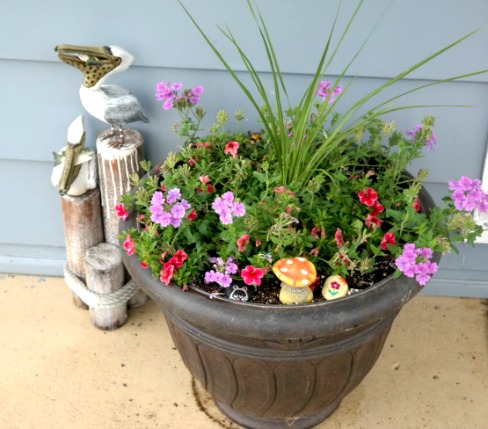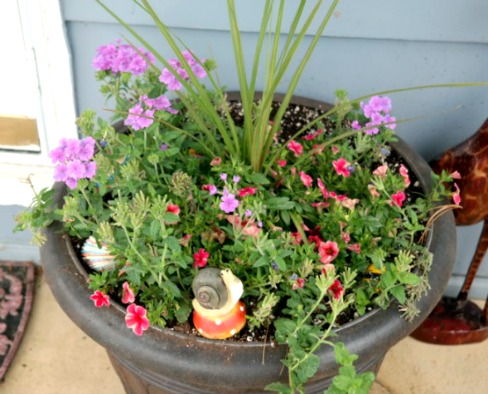 In the photographs above you'll see my two x-large flower pots that sit on each side of my front door. I keep them out year round and change out the goodies as the season's change. In the fall I stack corn stalks, pumpkins and gourds into the planters (after I've pulled out the annuals), during the Christmas holiday I put fake snow in them along with a big statue of Santa on one side, a Snowman on the other and layer in pine boughs cut from our big pine tree outback. During the Easter season I put in straw, faux hand-painted Easter eggs, a statue of Easter Bunny in one and a big Yellow Chick in the other one. I highly recommend big planters like this and then just change out your items as the seasons change.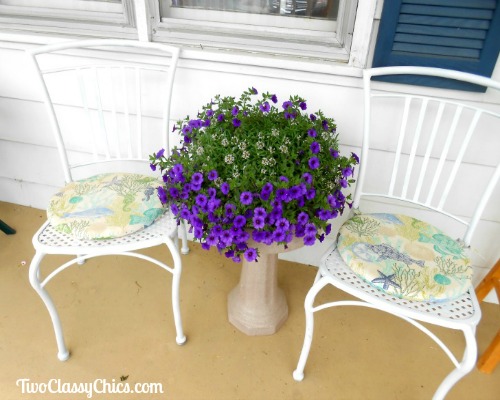 On my little "side porch" where we like to sit out…upcycled an old ceramic bird bath into a flower planter and outside accent table. We used textured outdoor spray paint (looks like granite rock) and refinished the birdbath. It has a relatively flat bottom to the bowl portion which makes for a nice little accent table. We measured the top and had a local glass cutter, cut us a round piece of glass to sit on top of it. When entertaining, I can place the glass top on it and use it as an accent table. When we're not entertaining, I have a flower basket sitting inside it to add color & beauty. If you're thinking about doing the same thing, look for old birdbaths that have flatter (instead of sloped) bottom's to their bowls.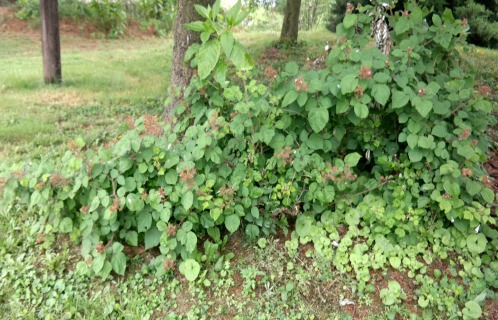 Here's a photograph of our raspberry bushes (the raspberry patch). Those bushes were planted 6 years ago and have continued to multiply every year. We love picking fresh raspberries from those bushes and using them to make homemade ice cream, to make jam or just to toss into our breakfast cereal. They're super easy to grow!
In the very first photo you'll see my beautiful birdhouse that I have hanging on the trunk of a large, old pine tree in our backyard. I reviewed that rustic handcrafted birdhouse several years ago on the blog and it still looks fabulous! Every year we have momma birds come and make a nest inside it, lay her eggs, hatch them and go. It's the BEST birdhouse that I've ever owned!
Since this post has gotten a lot longer than what I intended, I'll break up my little tour of garden ideas into a few parts and posts. In the coming weeks, I'll show you even more! Don't forget, you can find all of our gardening posts right here on the blog.
* This post contains affiliate links. If you make a purchase, we may or may not receive a small commission which helps to support this site. Thank you!