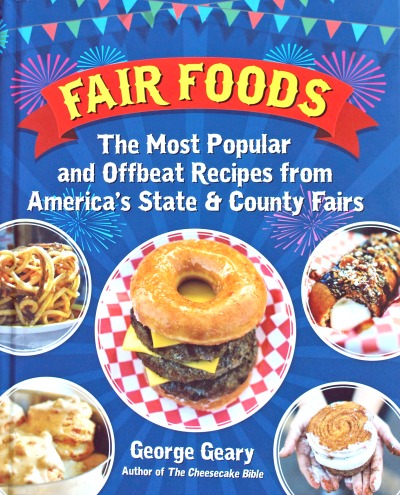 If you're like me, you go to a fair mainly for its unique food. Well, George Geary's new cookbook will help you make your fair favorites at home! Fair Foods: The Most Popular and Offbeat Recipes from America's State & County Fairs simply couldn't be more fun.
Fair Foods covers just about anything you can imagine from your local fair, no matter the time of year. In addition to summer fare like Fruity Snow Cones and Frozen Cheesecake on a Stick, it also includes autumnal recipes such as Candy Apples and holiday standards like Gingerbread Man Cookies.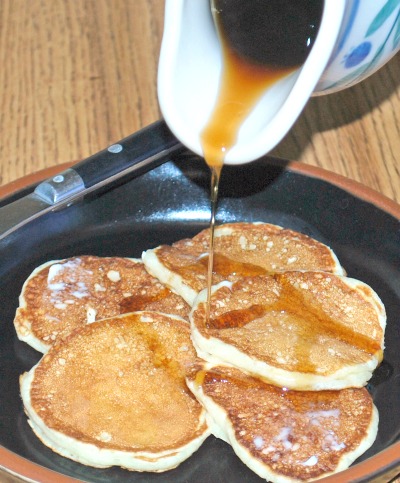 For our Sunday breakfast, I made a batch of the Silver Dollar Pancakes. They were delicious, a classic buttermilk pancake I'll be making often. If you make them, take my advice and grease your skillet; I didn't, and although the pancakes flipped fine in my well-seasoned cast-iron pan, they stuck badly to the surface of my nonstick skillet. The recipe made enough pancakes for us to have leftovers the next morning, a tasty bonus.
As much as I'm enjoying this cookbook, I wish it had an index to make finding recipes or ingredients easier. Likewise, I wish some of the recipes were more complete. For example, the Corn Dogs recipe doesn't include the hot dogs in the ingredient list, and the Fried Pickles recipe doesn't specify how many pickles are needed. And the hamburger recipes give instructions for cooking the burgers to medium or medium-rare, which may not bring them to the recommended safe internal temperature of 160°F. Don't get me wrong, though–Fair Foods is a fun cookbook and a good read, and I really like it.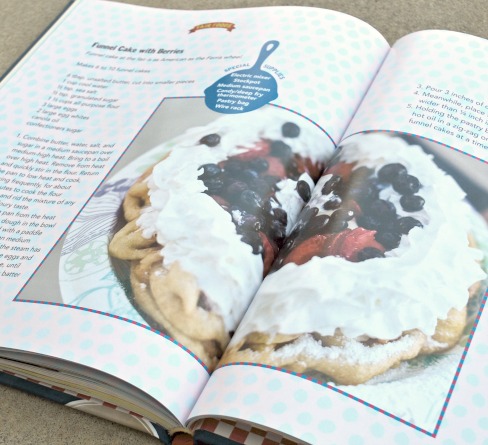 Flipping through Fair Foods is as close to the genuine fair experience as you can get without hitting the midway. The book's iconic recipes include:
Deep-Fried Butter
Grilled Corn on the Cob
Funnel Cake with Berries
Caramel Kettle Corn
1890s Lemonade
Coney Island Chili Dogs
And many more!
George Geary is well qualified to write a book called Fair Foods; he was the culinary coordinator of the Los Angeles County Fair from 1982 to 2010, so he knows what he's talking about! He has also written several other cookbooks, including The Cheesecake Bible and L.A.'s Legendary Restaurants. Among his many other accomplishments, he was named the Culinary Educator of the Year in 2014 by the International Association of Culinary Professionals.
* This post contains affiliate links. If you make a purchase, we may or may not receive a small commission which helps to support this site. Thank you!
Want a sample recipe? Here's a fair-food classic:
FRIED PICKLES RECIPE
The hot, crunchy pucker of these fried pickles is like no other flavor you can imagine. Pair with ketchup or mustard. Serves 4.
24 oz. dill pickles, sliced into 1/4-inch rounds
1 1/2 cups all-purpose flour
2 tsp. seasoned salt
2 tsp. garlic powder
1/2 tsp. freshly ground black pepper
1 1/2 tbsp. hot sauce
3/4 cup water
canola oil
Special Supplies:
Stockpot
Candy/deep fry thermometer
Paper towels
Drain dill slices on paper towels. Refrigerate until ready to use.
In a medium bowl, whisk together flour, seasoned salt, garlic powder, and black pepper. Add hot sauce and water to make a runny paste.
In a stockpot, heat 1 1/2 inches of canola oil over medium heat to 375°F.
Dip pickle rounds into the batter to coat all sides. If the batter is runny and doesn't stick to the pickle, add additional flour. If it is too thick, add hot water.
Using a slotted spoon, lower the battered pickles into the hot oil and fry until golden brown, about 30 seconds, turning over halfway through.
Remove from heat and drain on paper towels.
Recipe reprinted from FAIR FOODS: The Most Popular and Offbeat Recipes from America's State and County Fairs by George Geary, Santa Monica Press/August 2017.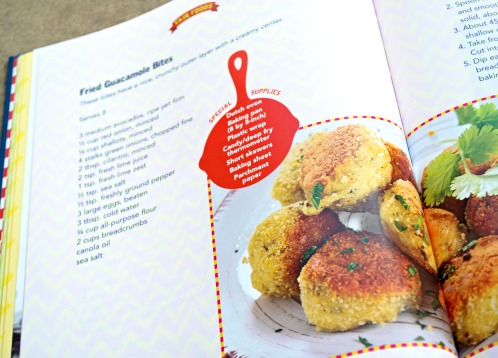 Giveaway: One lucky winner will win a copy of Fair Foods from Santa Monica Press and from author George Geary!
Giveaway Details: This giveaway is open to residents of the US ONLY age 18 and over. Please read our Terms of Service & Disclaimer Policy before entering. This giveaway will close on August 1st, 2017 at 11:59 pm EST time. No purchase necessary to enter or win.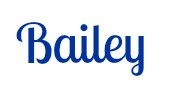 Disclaimer: A. Bailey received a complimentary product for review purposes & feature on The Classy Chics blog. No monetary compensation was received. A. Bailey's thoughts, opinions and words are 100% her own. Your thoughts may differ. Please read the blog's terms of service policy before entering any giveaways. The Classy Chics are NOT responsible for prize fulfillment or shipping of any items won from this blog.