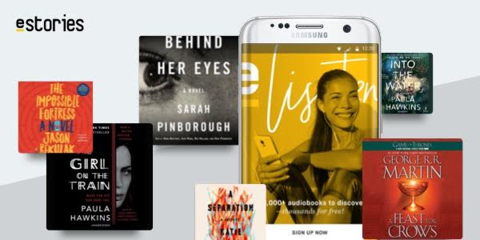 During the summertime I love to sit down and relax with a good book. I enjoy reading and especially enjoy reading medical & legal thrillers, mysteries and sometimes a good factual history book. My mother is the complete opposite of me…she loves those romance novels!
If you're looking for a deal on audiobooks, there's an estories offer through Swagbucks where you get up to 2000 SB  for paying $5.99/month for your first three months, which is 50% their normal rate. You get 800 SB when you sign up, and once your third monthly payment of $5.99, you get an additional 1200 SB. You can use estories to easily stream or download stories to your iPhone, iPad, Android, PC or Mac.
So even if you only try it for the first month, you still make money on the offer, since you're spending $5.99 and your get 800 SB (equivalent to $8). Plus, if you're also signing up for Swagbucks through this offer, you'll earn an additional 300 SB bonus paid out at the beginning of next month. Just click here to take advantage of this offer!
Haven't tried Swagbucks yet? They're a site where you earn points (called SB) for doing things like online shopping, watching videos, taking surveys, and discovering deals and services you might like to try (like Hulu!). You then take those points and turn them into free gift cards to places like Amazon, Starbucks, Walmart, Target, or PayPal cash.
Several months ago I introduced some of you to Swagbucks and how I earn Swagbucks by doing various activities online. I earn SB's when I watch videos, complete survey's, do internet searches, by entering Swagcodes and all sorts of other things. You can find some of my previous posts on how you can earn money and gift cards by using Swagbucks while doing your online activities right here on the blog. New to Swagbucks? You'll want to start HERE with that particular blog post.
To sign up for Swagbucks, click this link and join me! If you have any questions, please post them in our blog comment form and I will try to answer them for you!
Disclaimer: We are a Swagbucks Affiliate.