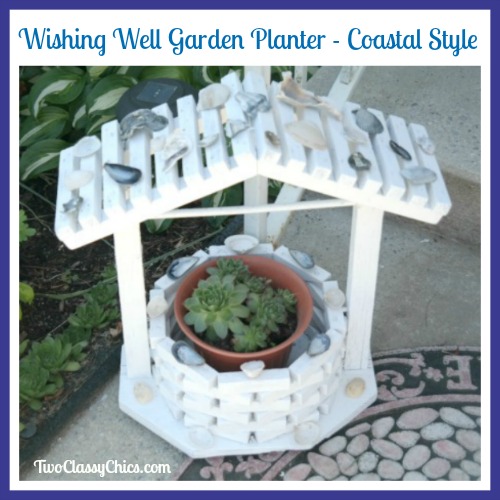 Last month my mom gave me an old wooden wishing well flower planter that she picked up at a local yard sale for $1.00. She was going to sit it out on her deck, but then decided to give it to me. She decorates in a country-style, so I knew right away that I would have to paint it and decorate it to fit within my beach & coastal style landscaping.
Today, I'm going to share with you how I did it, just in case you want to try a similar type of project.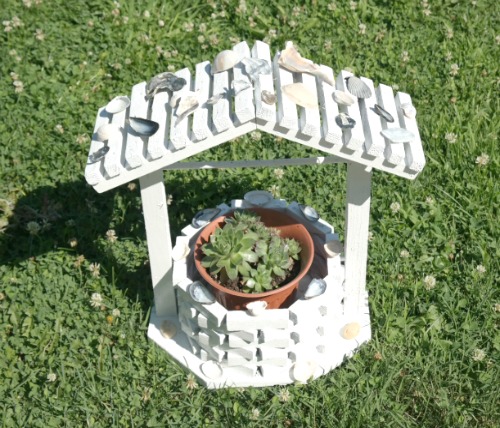 First…I used 2 cans of white "matte finish" exterior spray paint. To cover up all of that dark red color, I needed to do three coats over the entire wishing well. Since I did the project on a hot 90 degree day, I only had to let each coat of paint dry for about 20-30 minutes before spraying it again.
Once it was completely dry, I added 2 coats of exterior clear glossy sealer over-the-top. It's found in the spray paint section and will protect the wood from weather & sun damage. During the winter season I store my goodies in our garden shed and then in the springtime, I'll hit some of them again with a light coat of the spray sealer to keep them looking nice.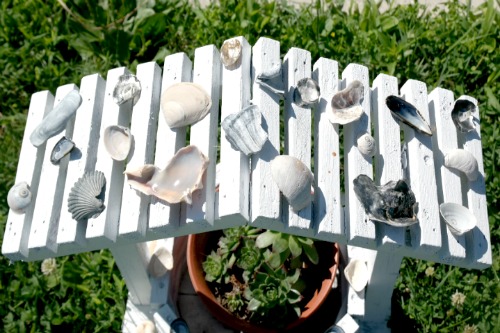 Every time we go down to the beach house I will talk numerous walks up & down the beach collecting seashells and other beach goodies. I clean them and then store them in plastic bins to use on craft projects or as decorations & landscaping accents around our home.
When gluing seashells onto my craft projects I like to use E6000 Adhesive. It comes in a squeeze tube and is very strong! I like to apply it using a cotton swab onto the seashell or sea stone and then adhere it to my project. You'll want to let everything sit and dry for at least 12 hours or overnight. Don't use hot glue, regular craft glue, etc. Those won't hold up to summer heat, winter cold, rain, etc. Trust me, you need to use a good adhesive like E-6000.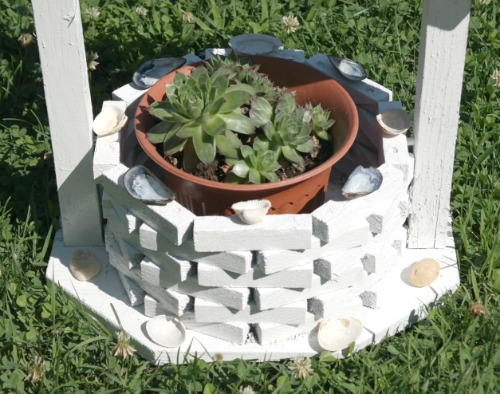 For now, I have a planter sitting inside my wooden wishing well with cats & kittens in it. However, I'm thinking about filling up the well with some sand and tossing in some pieces of drift wood, conch shells & other large seashells that I've found on my travels. Sigh…decisions!
* This post contains affiliate links. If you make a purchase, we may or may not receive a small commission which helps to support this site. Thank you!