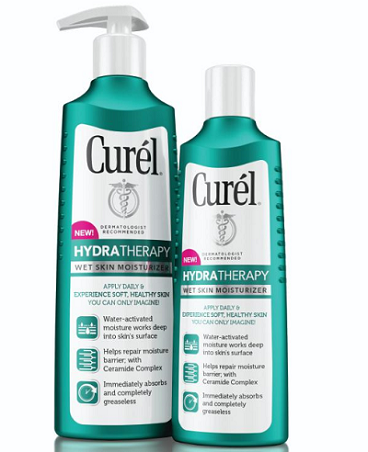 During the summertime my skin really takes a beating. Thanks to sun exposure, chlorine from our pool and other environmental factors…my skin gets overly dry. At times my skin is so dry that it cracks, burns and itches. Not only can it get uncomfortable, but overly-dry skin isn't pretty to look at.
* Complimentary Sample Received for Review.
This year I'm combating all of my past dry skin issues with the new Curél Hydra Therapy Wet Skin Moisturizer. The product is dermatologist recommended and the water-activated moisture works deep into skin's surface to correct your dry skin problem.
Hydra Therapy Wet Skin Moisturizer helps repair the moisture barrier with Ceramide Complex. Once applied it immediately absorbs into the skin and is completely greaseless.
Ceramides are naturally present in healthy skin and are vital to maintaining the moisture barrier. When Ceramides are lost, skin becomes dry and damaged. Curel moisturizers, with exclusive Ceramide Complex, deeply penetrate the skin's surface, helping to replenish and repair the moisture barrier.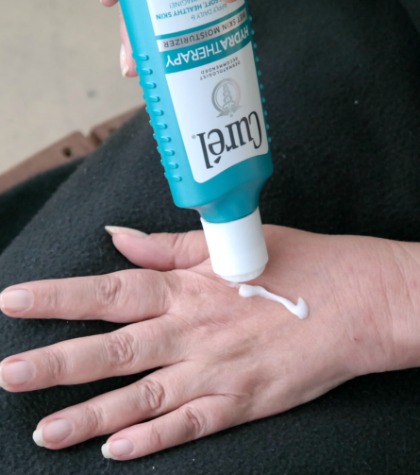 How to Use:
1. After showering or bathing apply Curél Hydra Therapy Wet Skin Moisturizer to wet skin. It absorbs immediately.
2. No need to rinse off or wait. Towel dry as normal. Use daily for best results.
I've been using the Curél Hydra Therapy Wet Skin Moisturizer for the past 16 days and have noticed a remarkable different in my skin. It's now extremely well-moisturized, has no dry or flaky patches and the itching is gone! Seriously, gone!
I like to personally apple the moisturizer onto my skin as soon as I'm done bathing or showering…while my skin is still slightly wet. It just glides onto the skin and within seconds it's absorbed. I can then immediately get dressed and go on with my day. It's easy to use and it gets the JOB DONE! One product, does it all.
You can purchase Curél Hydra Therapy Wet Skin Moisturizer at various retailers across the nation and you can purchase it directly from Amazon.
* This post contains affiliate links. If you make a purchase, we may or may not receive a small commission which helps to support this site. Thank you!

Disclaimer: Shelly received complimentary products to feature in this blog post. Shelly did not receive any monetary compensation. Shelly's thoughts, opinions and words are 100% her own unbiased opinion. Your thoughts may differ.