Being a girl on the go, I'm always looking for ways to make my life easier by cutting time off my daily routine. I take shorter showers in the morning and some days, I may decide not to wash my hair to save some time (and my sanity). Another part of that routine that I try to put off until absolutely necessary is shaving. Some days, I forget to do it, only to get out of the shower and realize it's not the best day to walk around with "more hair than I care to share" on my legs. I was recently introduced to a product that is perfect for this scenario, allowing you to shave without water. Busy Beauty's Showerless Shave Gel is a fabulous new product that gives you more flexibility when it comes to your shaving routine.
* Complimentary Product Received for Review & Feature.
According to Busy Beauty, 1 in 3 women skip a shower each day. If you are one of these women, this is an ideal product for you. It's so easy and quick. The Showerless Shave Gel allows you to shave in under 5 minutes with no water needed before or after shaving! You simply smooth on the gel and shave as you normally would with a razor. Rub the excess gel in as a healthy post-shave moisturizer.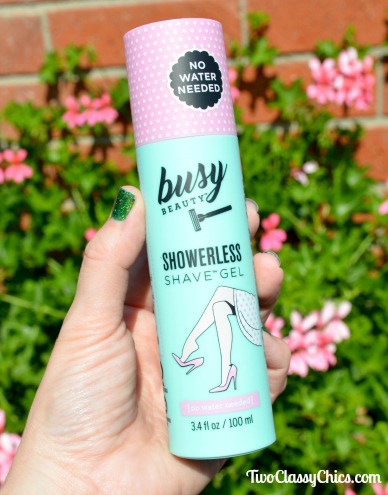 As a camper, this is a product that I definitely need in my life. There are times when I'm camping that I would prefer not to shower, but also don't want to be rocking the sasquatch look on the hiking trail! If you are camper like me, I would put this on the "must have list" for sure.
Not only is this a perfect product for the campers out there, but it's great for traveling (TSA approved), taking to the gym, simply conserving water, or if you've had a medical procedure or surgery that restricts you from bathing, this product will give you the option to shave without the water.
What I really loved about this product is that I have sensitive skin and was worried about razor burn or irritation. Because the Showerless Shave Gel contains soothing Natural Essential Oils of eucalyptus, clove, ginger, oat and tea tree, there are none of the usual suspects you'd experience dry shaving. No bumps, burning or redness. My skin was smooth and silky.
The Showerless Shave Gel is paraben free, alcohol free, cruelty free and 100 percent vegan. You can purchase this product on the Busy Beauty website for under $10. Each bottle should last for about 15 leg shaves.

Disclaimer: Kristine has personally reviewed the product listed above. She has not received any monetary compensation for her review but did receive a free product to try out so she could evaluate and use it for her review. Her thoughts & opinions in this review are unbiased & honest and your opinions may differ.