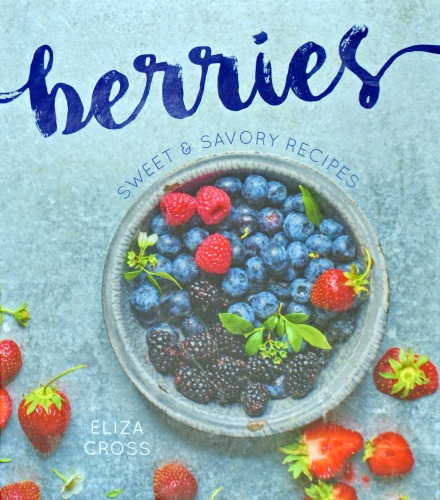 Oh, berries! I love them, especially at this time of year, at the height of their season and their flavorful best. And with the help of Eliza Cross's new cookbook, Berries: Sweet & Savory Recipes, I'll be making all sorts of wonderful things with this summer's luscious berries!
This beautiful cookbook is full of recipes featuring berries of all varieties and forms, from the first strawberries of spring through the vibrant blueberries of summer, the tart cranberries of autumn, and the frozen and dried berries of winter. Honestly, I am very happy to have Berries in my kitchen, and I know I'll be turning to it all year round.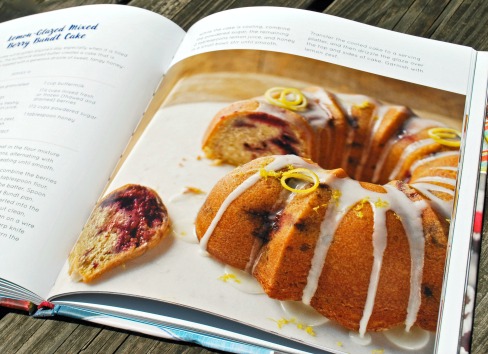 As I first flipped through the cookbook's pages, I was delighted by the mouth-watering photographs. I was also impressed by the breadth of the recipes, which include both standard and unusual ways to use berries. Perhaps the best way I can convey this is to simply list the chapters and share a couple of recipes from each:
• Beverages & Sweets: Strawberry-Mint Lemonade; Blueberry Cheesecake Fudge
• Jams, Preserves & Sauces: Jumbleberry Jam; Homemade Blueberry Pancake Syrup
• Muffins, Breads & Pastries: Dutch Raspberry-Lemon Muffins; Blackberry Buttermilk Cornbread
• Salads & Starters: Strawberry Chicken Salad; Cranberry-Glazed Meatballs
• Main Courses: Sticky Raspberry Barbecued Spare Ribs; Boysenberry-Ginger Glazed Salmon
• Cakes & Cookies: Blueberry Swirl Pound Cake; Blackberry Lemon Bars
• Pies & Tarts: Strawberry Margarita Pie; Rustic Mixed Berry Tart
• Desserts: Sweet Berry Tiramisu; Raspberry-Peach Granola Crisp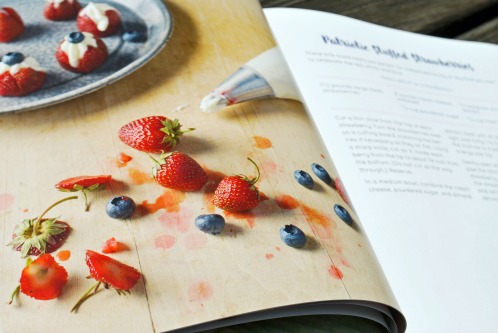 Did you see at least a few recipes there that you want to make (or eat, if you're not the cook in the house)? I know I did! And that's just a sampling of the drinks, meals, and treats in this lovely cookbook.
Within days of receiving Berries, I made two recipes, Strawberries and Cream Muffins (page 40) and Cranberry Oatmeal Cookies (page 90). So good! Both recipes are well written and easy to follow, and the results are fabulous. As written, the muffin recipe makes 16 to 18 muffins, but with just two of us in the house, I halved the recipe and still got 11 full-size muffins from the batch. The cookies are a delicious twist on oatmeal cookies, using dried cranberries and white chocolate morsels, and my husband loves them. I know I'll be making both recipes again, hopefully soon, not to mention all the others I've got bookmarked to try!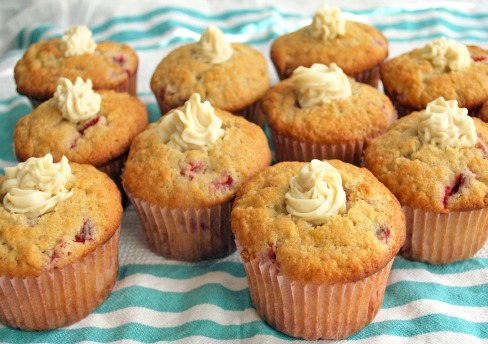 With Berries, Eliza Cross has instantly become one of my favorite cookbook authors. One of her previous cookbooks, Pumpkin It Up!, was reviewed here at The Classy Chics last year. Her other books include 101 Things to Do with Bacon, 101 Things to Do with Beer, Small Bites, and The Quinoa Quookbook. You might also enjoy browsing the recipes and other interesting posts at her blog, Happy Simple Living.
Berries: Sweet and Savory Recipes is published by Gibbs Smith, which also published several other of Eliza Cross's cookbooks. For more information and to check out their wide variety of genres and books, visit their website.
* This post contains affiliate links. If you make a purchase, we may or may not receive a small commission which helps to support this site. Thank you!
Giveaway: One lucky winner is going to win their own copy of Berries! Good Luck!
Giveaway Details: This giveaway is open to residents of the US ONLY age 18 and over. Please read our Terms of Service & Disclaimer Policy before entering. This giveaway will close on July 26th, 2017 at 11:59 pm EST time. No purchase necessary to enter or win.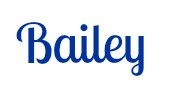 Disclaimer: A. Bailey received a complimentary product for review purposes & feature on The Classy Chics blog. No monetary compensation was received. A. Bailey's thoughts, opinions and words are 100% her own. Your thoughts may differ. Please read the blog's terms of service policy before entering any giveaways. The Classy Chics are NOT responsible for prize fulfillment or shipping of any items won from this blog.