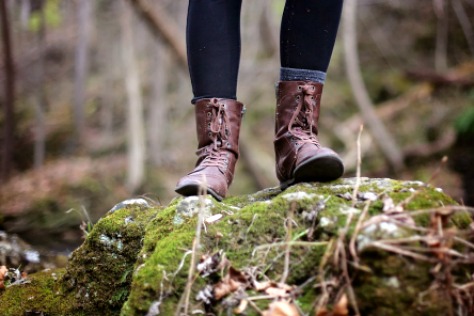 Now that summer has arrived, you might be under the impression that you must now relegate your favorite pair of boots to the back of the closet. Not so, say fashion experts. Just because the weather is warmer is no good reason to stow your boots until wintertime. In fact, you can rock your favorite boots all year long, if you do it right.
Warm weather boots
Granted, you're probably not going to want to don a wooly pair of bulky boots when the weather's warm, but you can certainly wear suede bootlets or bohemian style booties. In fact, a classic pair of suede booties worn with sassy summertime shorts is a great look for any female with nice legs.
Bohemian booties work wonderfully with summer styles such as peasant dresses or gauzy palazzo pants. Suede dresses up or down, depending on what you pair it with. At nighttime, slip into your booties when you hit the town in a hi-low skirt, sexy camisole, and blue jean jacket. If spring or summer showers are forecast, be sure to waterproof your suede booties before wearing. Add a dash of extra pizazz when you wear fashionable, flirty leg warmers from BCS Boutique with your grooviest boots or booties.
In boots, you can rock any season
Flip flops are fun, but they don't make you feel powerful the way a great pair of boots can. Ankle-high booties go well with all sorts of outfits, from miniskirts to long dresses to jeans. And, it won't even matter if your toenails are painted. Of course, you'll want to ditch thick tights in summertime. Slip into lightweight hosiery or skip the stockings altogether and dress up your booties with cool cotton leggings.
Super soft, faux suede boots that can be scrunched can be the perfect footwear for winter as well as for summer wear. Smoosh soft boots low or fold them to the ankle, and you've got two new looks for boots you may have only worn in wintertime. In summertime, pair those scrunchy boots with a wide brimmed hat, a vintage scarf, and a pretty jersey dress, recommends Bustle magazine.
A concise history of boots
According to Love To Know, the first pair of boots may have been worn by a caveman around 15,000 B.C.E. in the region we now know as Spain. Cave paintings there appear to depict a man and woman wearing boots made of animal skin and fur, respectively. Archaeologists dug up five-thousand-year-old funerary jars from ancient Persia that are shaped like a fashion boot. Boots from very long ago have been found in Egyptian tombs as well as in the Arctic and Asia. This pretty much goes to show that people have enjoyed wearing boots for longer than anyone can remember.
How cool can boots be in summertime? Very, if you know how to do it. Don't let the calendar tell you what to wear. If you love your boots, wear 'em any month, any season of the year.