Whether you are entertaining guests or whipping up dinner for you and your family, Explore Cuisine is the perfect mealtime option that will satisfy an array of taste buds AND dietary needs. Explore Cuisine offers delicious pulse and bean based pasta options such as Black Bean Spaghetti and Edamame Spaghetti which can easily be substituted into any pasta recipe to make it celiac-friendly.
The following recipe is for one serving.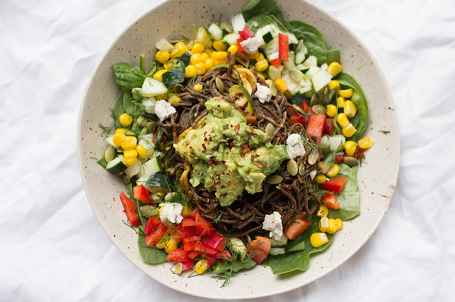 Southwestern Black Bean Spaghetti Recipe
1/4 box Explore Cuisine Black Bean Spaghetti
1/2 zucchini spiralized into "noodles"
1/4 Red Bell Pepper
2 handfuls Baby Spinach
1/4 cucumber
1/4 cup corn (canned in water works great- just rinse them)
1/4 avocado mashed with fresh organic lemon juice
1 tbsp vegan cheese (I used Leaf Cuisine Plain Cream Cheese) pumpkin seeds + dill for garnish
Start by boiling a big pot of water for your black bean spaghetti. Once boiled, add the spaghetti and let cook for 6 minutes. Once done, remove from heat, rinse under cool water and set aside.
Prep your veggies! Finely dice your cucumber, bell pepper, mash your avocado, spiralize your zucchini. Next, add a spicy adobo chipotle sauce to your noodles and zucchini noodles. Combine the ancho and guajillochiles in a large bowl and add plenty of cold water to cover. Let them soak until soft, about 30 minutes.
Place the soaked chiles in a blender along with the ginger, cumin, salt, and pepper. Blend until very smooth. Stop the motor a few times to scrape down the sides with a spatula and give things a stir, just to make sure everything's getting puréed. Don't be tempted to add liquid—you want the final sauce to be thick. Scrape the purée into a small bowl if you plan to use it soon, or into a jar with a tight fitting lid if you want to save it for later. It'll keep in the fridge for up to 5 days, or in the freezer for 3 months.
Add a few handfuls of baby spinach to a big 'ol bowl. Add some noodles, guacamole, then add cucumber, red bell pepper, vegan cheese, pumpkin seeds, and freshly chopped dill!