Many home crafters are finding that in a fast-paced world of instant gratification, handmade objects become even more valuable. Fiber arts like knitting, crocheting, sewing and quilting are on the rise again, and weaving is making a comeback. Although full-scale looms are a serious investment, little looms are a fantastic entryway to textile creations and they're much more affordable.
* Complimentary Book Received for Review
Title: Little Loom Weaving
Author: Andreia Gomes
ISBN: 978-1-61243-663-0
Publisher: Ulysses Press
Book Synopsis: Little Loom Weaving: Quick and Clever Projects for Creating Adorable Stuff by Andreia Gomes is a great way for weavers to get started making beautiful hand-woven pieces. From pillow covers, to Instagramable wall hangings, to eye-catching statement jewelry, this full-color book has a broad range of projects for beginning and intermediate weavers. Readers will even learn to make their own starter loom out of a picture frame so so they can get started right away.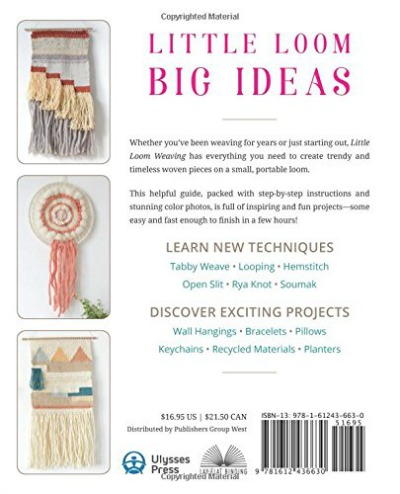 My Thoughts: For the past few months I've been looking around for a new crafting medium to try. I already know how to crochet, knit, do embroidery, quilt, scrapbook and a lot of other things. However, I'm getting bored and I'm ready to try something new.
As a newbie to this particular craft medium, I found the book to be super-easy to understand. I'm so glad that the author explains everything in terms that I can understand and in a manner that I can follow along. Each project includes the step-by-step instructions along with step-by-step close-up photographs to help guide you.
The beginning of the book is absolutely fantastic! She explains to you how to select type's of yarn, how to select coordinating colors, information about yarn fibers & weight, a list of tools that you need and all kinds of other things that are perfect for beginners like me.
We're getting ready to go on an extended vacation and as soon as we get back, I'm going to have my husband build me a small loom and I'm going to give a few of these projects a try.
Examples of Included Projects: Key Chains, Wall Hangings, Plant Hangers, Driftwood Board (I want to make that one!), Toss Pillows, Summer Bracelet, Beverage Coasters and more!
* This post contains affiliate links. If you make a purchase, we may or may not receive a small commission which helps to support this site. Thank you!

Disclaimer: Shelly received a complimentary product as featured in this blog post. No monetary compensation was received. Shelly's thoughts and words are 100% her own unbiased opinion on the company & products being featured today. The Two Classy Chics are not responsible for prize shipment or fulfillment. This post may contain affiliate links. If you purchase an item through an affiliate link, we may receive a small commission which helps to support this site.