The summer season has been flying by pretty quickly this year. Two to three times a month I enjoy hosting "craft dates" with my granddaughter and godson. It's a great way to bond with the kids and it's a great way to teach them things, while they're having some fun.
This kid's craft project is very frugal and works up quickly. It helps children with their hand-to-eye coordination and you can take the time to teach them about gardening and sunflowers. We looked up some sunflower facts online and went over those before we started our project. It's a great way to start teaching YOUNG KIDS about gardening! The supplies list is for one sunflower.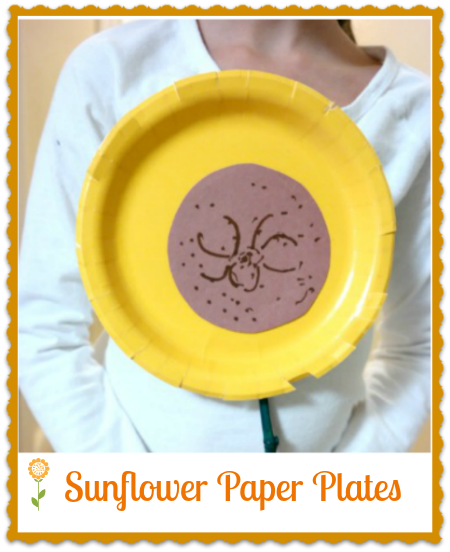 Kid's Craft Project: Sunflower Paper Plate
1 Bright Yellow Paper Plate (the cardboard type's of plates)
1 Sheet of Brown Construction Paper
1 Brown Marker
Scissors
Glue Stick (for paper crafting)
1 Faux Bamboo Floral Craft Stick (in green)
Masking Tape
Note: If you can't find the faux bamboo green wood stick at the craft store, you can buy a 1/4″ diameter unfinished wooden dowel and paint it a dark green.
Using scissors, have the child cut slits around the outer edge of their dark yellow paper plate. We used paper plates that are made out of a thicker cardboard type of material. They're thicker than the plain white paper plates. Have the child cut out a circle from brown construction paper. Using a brown marker, they need to draw on the seeds. Using a glue stick (made for paper crafting), have them adhere the brown circle onto the center of their paper plate as shown in the photo.
Our green faux bamboo stick was purchased in the floral department at the craft store. It measured 12″ in length and we cut it down to 8″ in length. Using masking tape, tape the stick onto the back of the paper plate. We had to use about 4 pieces of masking tape to get it to hold snuggly. You could also use duct tape. We tried glue and glue didn't work well at all. Enjoy!
* This post contains affiliate links. If you make a purchase, we may or may not receive a small commission which helps to support this site. Thank you!