Aloe Vera has always been something I keep around the house. Whether it's for soothing painful sunburn or combating dry skin, I love the way aloe comes to the rescue. I was recently introduced to a product called AloGel Fresh Aloe Facial Care from SMD Cosmetics, which provides 2,000 years of Korean herbal skin care wisdom with restoring anti-aging qualities and antioxidants. This company's vision is to provide effective, unique, luxury skincare that is also natural, safe and non-toxic.
AloGel offers cooling sun relief in the hot summer months, but also soothes, restores and moisturizes your skin to give you a beautiful, healthy glow all year round. This product's premium formula nourishes skin with over 75 beneficial nutrients that immediately help erase the appearance of dry, flaky or irritated skin brought on by sun and climate exposure.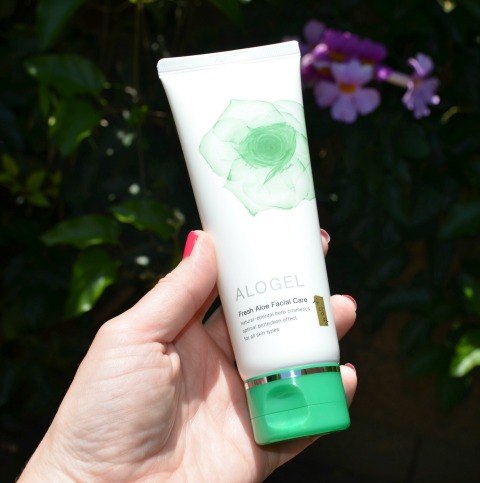 Some of the exclusive natural ingredients in the AloGel are:
• Aloe Barbadensis Leaf Juice – this is commonly known as aloe vera, which is synonymous with soothing sunburns. This powerful and nutrient dense gel is at the core of the formula that reduces the appearance of dry skin by restoring suppleness. Vitamins C, E, and beta-carotene absorb directly and quickly for immediate results.
• Morus Alba Bark Extract – also known as mulberry, this extract is packed with antioxidants known for providing brightness and smoothness to skin, giving your face a more even tone.
• Perilla Ocymoides Leaf Extract –this has one of the densest levels of Omega 3 fatty acids of any natural substance. The natural oil helps soothes sensitive skin and minimizes pores while helping to clean out clogged pores. This is especially helpful in the summer months when it's hot and makeup and can really do a number on clogging our pores.
• Wild Sesame Leaf Extract –this is an antioxidant that absorbs into skin and boosts energy to rejuvenate cells.
• Propolis extract – it provides an antibacterial quality in addition to its antioxidant properties to build skin health and restore and refresh your complexion.
To get the best results from this great product, be sure to keep it refrigerated and use it right after cleansing your skin. You'll feel the benefits right away. It's so refreshing, gentle and light. My skin feels more youthful even after just a week or so. The AloGel also has a very subtle pleasant smell, which I love. I'm not one for really strong scented products.
The AloGel is available on the company's website and they are currently offering free shipping, so stock up on this summer essential right away.

Disclaimer: Kristine has personally reviewed the product listed above. She has not received any monetary compensation for her review but did receive a free product to try out so she could evaluate and use it for her review. Her thoughts & opinions in this review are unbiased & honest and your opinions may differ.