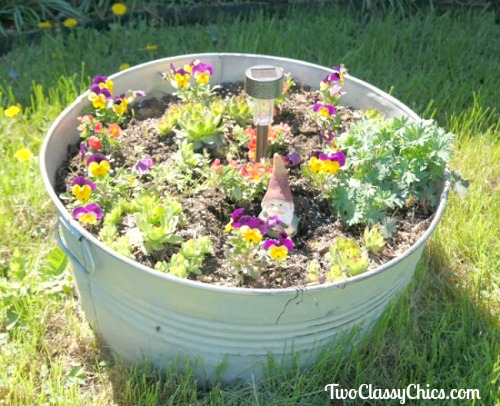 We're finally into the month of May and we're starting the gardening season here in the northeast. Every week from May through September (hopefully) we'll be featuring at least one gardening post every week! Some of our features will be gardening articles, growing tips, garden-product related reviews, DIY projects, planter ideas and more!
This week's feature is a recent project that I completed where I took an old metal wash basin or wash tub and turned it into a garden planter. I picked up my wash tub at a local flea market for $5.00 and I think it was a bargain!
To turn it into a large flower planter, you need to place gravel into the bottom. I added a 3″ layer of gravel and river rocks. This will help with water drainage.
Next, I mixed together purchased potting soil, dirt from my backyard and some fertilizer. Once they were mixed together, I finished filling it up. You want to leave space at the top, I left about 4″ to allow for plant growth and watering.
Now it's time to decorate! I placed a $1.00 solar light in the center which I picked up at my local dollar-type of store. I found a little garden gnome at Gabriel's for $1.79 and added that. Those are my two main decorations for now, but I do plan on adding a few garden fairies in the near future.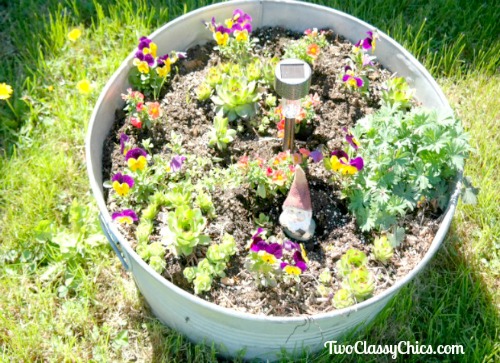 For my plants, I added three different type's of succulents, purple pansies and a few other flowering plants that I had leftover from other projects. After you add your plants, you want to water them in really good! Within a month, my new planter will be filled out and bursting with growth once our growing season kicks into high gear.
When doing a big & heavy project like this…make sure you have it sitting in your yard in the spot that you want it, before you fill it up with the soil. They're incredibly heavy and NOT easy to move around. Once Fall rolls around, I cover mine with a thick layer of hay (this is my third wash basin project) to help insulate the succulents over the winter. Once Spring rolls around, the Succulents come back and I just replace the annuals every year.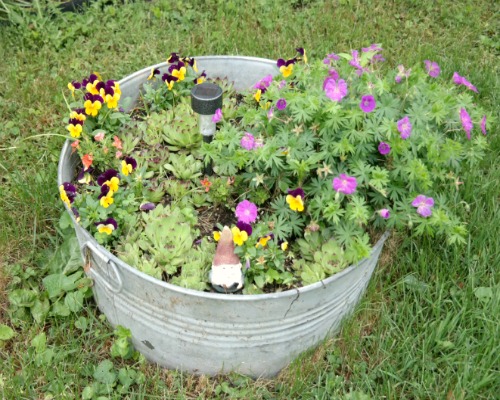 The photograph above shows my planter 3 weeks after I put the plants in. As you can see, they're quickly growing larger and spreading. The succulents (Cats & Kittens aka Chicks and Hens) will come back year, after year. I can then just add in a few annuals to add the pops of color. Easy to do!
Well, there you have it! A fun DIY gardening planter idea that you can make on your own and it doesn't cost a lot of money! In a few weeks I'll add an additional photo to this post, so that you can see how my flowers are coming along.
* This post contains affiliate links. If you make a purchase, we may or may not receive a small commission which helps to support this site. Thank you!