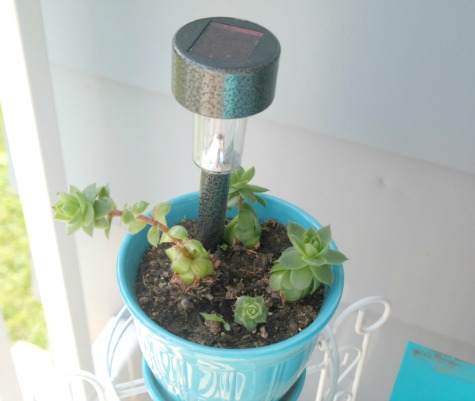 One of the easiest plants that you can grow in an outside or inside garden is a succulent (they're from the cactus family). One variety of succulents that I like to grow are often called Chicks and Hens, Cats and Kittens, Rooster and Hens, etc. Depending on where you live in the country, people call them by different names.
Chicks and Hens can be grown indoors or outdoors and I grow them both ways. I have some that are planted directly in-the-ground in my various flower beds, some that are planted in containers and so forth. The ones that I grow in containers go outside during the warmer months and I bring them inside during the winter. The ones that are planted directly in the ground, do indeed come back year-after-year.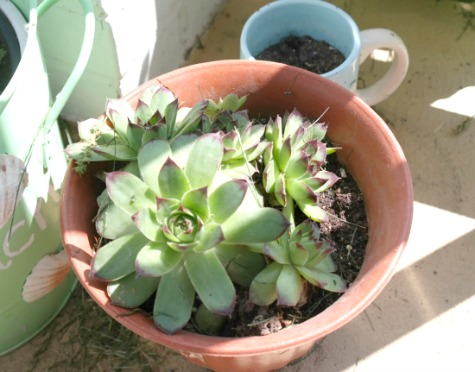 The succulents are very hardy and you don't need to give them a lot of attention. When the soil is dry…that's when you water them. How often you do it will depend on the time of the year and if you have them planted indoors or out. I always judge it by dry soil…if it's dry, I generously water them.
For the ones that I have planted outside…I have them in areas that get a decent amount of sun with some shade. When I bring them indoors, I keep them near windows, so that they can receive the sunlight. I think it's best to find an area that gets at least 50% of the sunshine every day.
These plants come in a wide variety of sizes, colors, textures and styles. Once you get a few of them, they will easily make babies and grow. I like to separate mine out once a year and move them around to keep them healthy.  For those of you who want to learn how to plant and grow Chicks & Hens, I found a great site for you to check out, along with an online video, so that you can learn more. You'll find it HERE.
I'm including a few photos in my gardening feature today, so that you can see some of the Chicks & Hens and Cats & Kittens that I'm currently growing. They're one of my favorite plants to grow. Anyone can grow them!
* This post contains affiliate links. If you make a purchase, we may or may not receive a small commission which helps to support this site. Thank you!