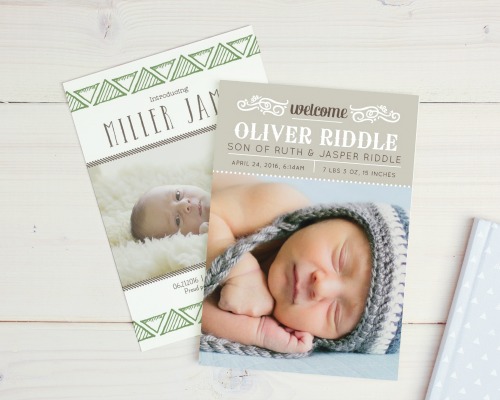 If you've been reading this blog for the past 8 years, you'll already know that I'm the proud mother to two adorable children. My beautiful daughter is now 8 years old and my handsome son is 21 months. My two children are my entire world!
* We've partnered with this company to bring you this feature.
My best friend for the past 20 years is pregnant with her first child and is due in November of this year. As her BFF, I'm in-charge of planning and hosting her very first baby shower! It's going to be a beautiful celebration honoring the parents-to-be and the new little life that they've created.
Now that I've set the date for the shower and reserved the party location, it's time to shop for baby shower invitations.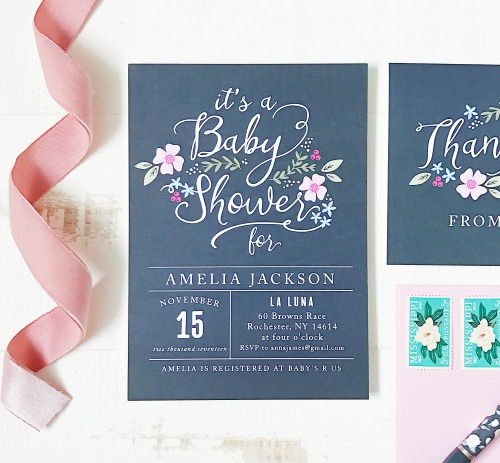 Let me introduce you to Basic Invite where you'll find the most unique, creative and fully customizable baby shower invitations and cool birth announcements. Basic Invite is not your typical invitation and card store. Nope, they're different! Here's some of the things that set's them apart from others.
* Almost Unlimited Colors – Basic Invite is one of the few websites that allows customers almost unlimited color options with instant previews online. Once you select a design you can change the color of each element on the card to over 180 different color options, so you can make sure the card is exactly how you want it down to the littlest detail.
* Custom Samples – Basic Invite is one of the few websites that allows customers the ability to order a printed sample of their actual invitation, so they can see exactly how it will print, as well as the paper quality before they ever have to place their final order.
* Over 40 Different Colors of Envelopes – Basic Invite is just as colorful with their envelopes as they are with their invitations. Customers can choose from over 40 different colors when it comes to their envelopes, so that they can make their invitation stand out even before it is opened. All of their envelopes are peel and seal so the envelopes can be quickly and securely closed.
* Free Address Collection Service – Use their free address collection service to request your addresses with just three simple steps. Share a link, collect addresses, and get free envelope printing. This is a huge time-saver for sure!
Throughout my post you'll see images of three of my favorite baby shower invitations and birth announcements that I found while browsing Basic Invite. As you can see, they're creative, unique and beautiful. I picked out baby girl and baby boy designs, because we won't know until later this month the sex of the baby. Exciting times for sure!
Now that I'm planning the parents-to-be's baby shower, I would love to get some feedback from all of our blog readers. Head on over to BasicInvite.com and come back here to tell me which baby shower invitations and birth announcements are your personal favorites? Looking to connect with the company? You can find them on Facebook too!

Disclosure: This is a compensated post. Regardless of being compensated to write it, my thoughts, opinions and words are 100% my own.