I have sensitive skin and am always looking for a great cleanser to purify and repair my skin, but want to make sure that I'm using something gentle. I was recently introduced to Swissvita's Micrite 3D All Use Facial Cleanser , which I've been using for about a week and a half and I'm excited to share my thoughts today.
* Complimentary Product Received for Review & Feature.
Swissvita is a small company dedicated to quality. It was founded in 2007 between two skincare labs that successfully combined the essence of European beauty with technological innovations of Asia. The concept was to create a skincare range that didn't just hide the signs of aging but reversed it. Every Swissvita product uses a natural extract known as AC-11 ®, which is a highly potent plant extract. AC-11 is combined with other powerful ingredients such as Vitamin B12 for accelerated skin repair and collagen production.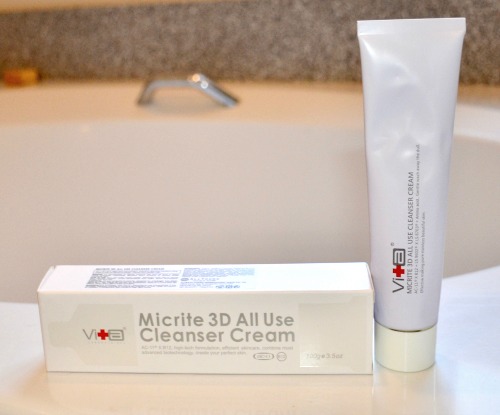 This Swissvita Facial Cleanser is an airy foam cleanser that purifies skin from deep within and gives your complexion a gorgeous glow. It contains amino acids for helping to prevent breakouts and it will easily wash away dirt and build up. This cleanser comes in an aluminum sealed package to prolong the potent effects of the ingredients. It feels fantastic on your skin and isn't greasy or heavy. It is easily absorbed into the skin and you can feel it penetrate and moisturize. I've enjoyed using it in the mornings and evenings and I really like the way it foams up.
This cleanser is free of additives, alcohol, sulfates, parabens and fragrance, so it's ideal for those of us with skin sensitivities. You'll even notice that the packaging is quite simple—the company feels that it doesn't need to hide behind colorful packaging and lets the product speaks for itself.
It is definitely a quality product that will help clear, purify and nurture your skin. The cleanser can be purchased on the Swissvita website, where you'll find a full line of products that will make your skin look and feel beautiful.

Disclaimer: Kristine has personally reviewed the product listed above. She has not received any monetary compensation for her review but did receive a free product to try out so she could evaluate and use it for her review. Her thoughts & opinions in this review are unbiased & honest and your opinions may differ.