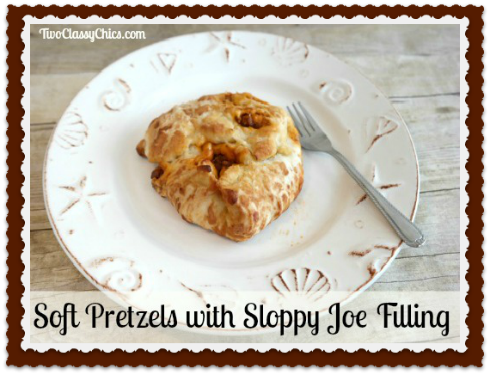 A few weeks ago I needed to whip up a little lunch for the family and everyone wanted sloppy joes. However, I didn't have any rolls on-hand, so I decided to mix up a batch of soft pretzel dough and make handpies. You can totally make this recipe from scratch by using the Homemade Soft Pretzels recipe from the Food Network (that's the recipe that I used). If desired, you buy a boxed mix to save some time. You can make your own sloppy joe sauce or purchase a can of Manwich in your desired flavor.
If you want to make your own soft pretzel dough from scratch, I recommend THIS RECIPE from the Food Network. Once you have your dough made, you'll want to separate it into equal sections and set it aside while you prepare the filling.
To Make Sloppy Joe Filling: I used 1.5 lbs. lean ground beef. You will want to simmer the beef over medium heat and once it was cooked, I drained away the grease. I then tossed in some finely chopped sweet onion, finely chopped green bell pepper, ketchup, brown sugar and 2 tbsp. of Sweet Baby Ray's original barbecue sauce. I simmered everything together over medium heat for 5-7 minutes. Remove from heat.
Lightly spray a baking sheet with some non-stick baking spray. Preheat oven to 350 degrees F.
Roll out the dough or flatten it out with your hands in equal proportions. Use a spoon to stuff the dough (equally) with your prepared sloppy joes filling and fold the dough over to enclose all of the filling inside. In other words, you make hand pies! Hand pies are little pies that you make by using your hands (not a rolling pin) to flatten the dough and to fold it up around your filling.
Place your hand pies onto your prepared baking sheet. Bake in a preheated 350 degree oven for approximately 8-12 minutes, depending on the size of your hand pies and how much filling you placed inside. Once done, remove from the oven and let them sit for 5 minutes before serving.
We served them alongside some homemade onion rings and French fries. The entire family loved them and now request their sloppy joes to be served inside soft pretzel dough.
* This post contains affiliate links. If you make a purchase, we may or may not receive a small commission which helps to support this site. Thank you!