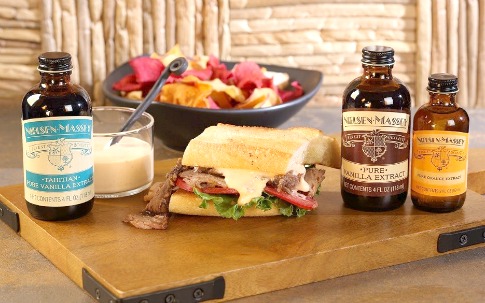 Looking for something different to make for your next lunch, dinner or backyard barbecue? If so, I think you'll appreciate this recipe from our good friends over at Nielsen-Massey. This recipe will make 8 servings, which makes it perfect for family get-togethers.
Korean-Style Oven Barbecued Beef Brisket Sandwich with Vanilla Chili Aioli Recipe
Vanilla Chili Aioli
1/2 cup mayonnaise
2 tablespoons sweet chili sauce
1 tablespoon fresh lime juice
1 teaspoon hot chili paste
1 teaspoon Nielsen-Massey Tahitian Pure Vanilla Extract
In a small bowl, add aioli ingredients and stir to combine. Cover and refrigerate.
Marinade
1 1/2 to 2 apple pears (Asian pears) peeled, cored and puréed (may substitute with 2 Bosc pears)
5 green onions, sliced
2 teaspoons peeled and freshly grated ginger
1/3 cup honey
1/4 cup 100% soy sauce
1/4 cup all natural rice vinegar
2 tablespoons sesame seed oil
1 tablespoon natural mesquite liquid smoke
2 teaspoons Nielsen-Massey Pure Vanilla Extract
1/2 teaspoon Nielsen-Massey Pure Orange Extract
1 teaspoon organic garlic powder
1/2 teaspoon chili pepper flakes
1/2 teaspoon salt
Brisket
4 pounds to 5 pounds whole boneless beef brisket, trimmed salt and pepper, to taste
1 (32 fl. oz.) quality container beef broth (reserve)
Sandwich
2 baguettes, sliced and toasted
1 head green leaf lettuce
4 medium tomatoes
In a medium bowl, add marinade ingredients and stir to combine. Slice brisket in half, across the grain. Place brisket pieces in the bottom of a sealable plastic bag, standing on end so marinade is evenly distributed. Pour marinade ingredients over brisket. Squeeze air out of bag and tightly seal. Place in a large bowl and refrigerate overnight.
Preheat oven to 350 degrees F. Coat a small roasting pan with cooking spray and add 1 tablespoon-2 tablespoons of water to pan bottom. Remove brisket from marinade and discard leftover marinade. Place brisket in roasting pan and salt and pepper. Do not cover pan and place in oven; after 1 hour of roasting add container of reserved beef broth. Reduce oven temperature to 325 degrees F. Cover tightly and continue roasting, until fork tender, about 2 1/2 hours. Trim excess fat and thinly slice brisket across the grain; return slices to pan of beef broth or place on a serving platter and spoon broth over slices. Serve on toasted baguette with lettuce, tomato slices and Vanilla Chili Aioli.
Tips: Prepare sandwiches and other easy-to-eat finger foods so your guests can focus on the current play. Korean-Style Oven Barbecued Beef Brisket Sandwiches served with Vanilla Chili Aioli (recipe above) are made with Pure Vanilla Extract and easily assembled ahead of time, letting guests simply grab and go. The inspired addition of the Vanilla Chili Aioli offers big flavor, securing this sandwich's position as the winner of your buffet.
* This post contains affiliate links. If you make a purchase, we may or may not receive a small commission which helps to support this site. Thank you!