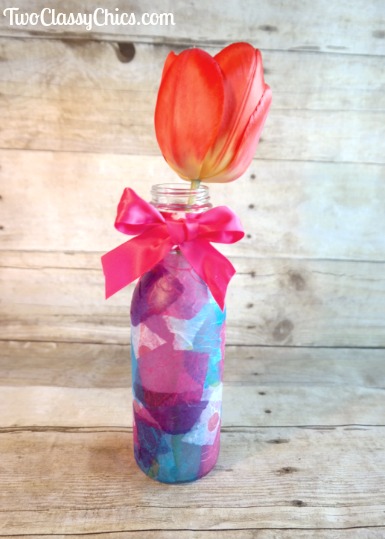 Twice a month I like to get together with my almost 8 year old granddaughter for crafting with Nanny play dates. We've been hosting these play dates for the past 4 years and it's a great way for me to bond with her and to teach her new skills.
Mother's Day is just around the corner and she wanted to make something to give to her mom. Since I save up all of my colorful tissue paper throughout the year, a decoupage craft project sounded perfect! I get a LOT of packages, thanks to my blog and many of times the items that I receive for review are wrapped in pretty tissue paper. On top of that, I have my daughter save all of their gently-used tissue paper from the kid's Birthday parties for me to use in craft projects. Let's just say, I have a huge plastic container stuffed full of tissue paper that needs to be used up!
We decided to make a decoupage bottle vase for her to give to her mother and a second bottle vase for her to give to her teacher at school. Here's how we made them.
Note: For flower vases, empty single-serving beverage bottles and glass condiment bottles work best.
Kid's Crafts – Decoupage Bottle Vase for Mother's Day
1 Bottle Mod Podge – Decoupage Medium in Glossy Finish
Foam Paint Brush
Sheets of Tissue Paper
Glass Bottles
Plastic Disposable Dish – Butter Dish is Perfect!
Aluminum Foil
Cutting Board
Scissors
Satin Ribbon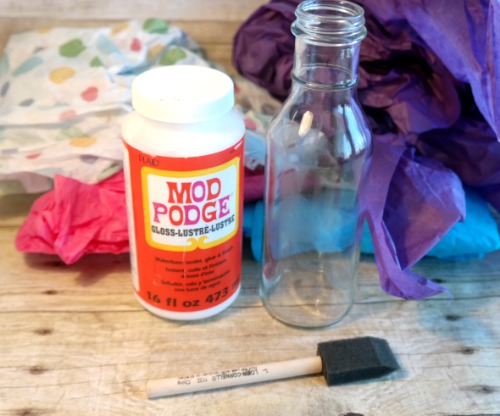 We covered my cutting board with a sheet of aluminum foil to use as our work surface. You need to make a surface to catch the drips and one that won't stick to glue. Aluminum foil is perfect for this!
Have the child rip up several pieces of tissue paper in various colors into small pieces. Separate the colors into different piles.
Pour a little bit of the Mod Podge into the plastic dish and have the child dip the foam paint brush into the solution. Start working at the bottom of the bottle and work upwards. Brush the solution onto the bottom 2″ of the bottle. Place pieces of the tissue paper on the top, overlapping the edges as you work around the bottle and upwards. You won't no gaps to show.
After you get the entire bottle covered or the area that you want covered, brush Mod Podge over the top of the design with a thin coating. Turn the bottle upside down and let dry. On a hot day, this process will probably take 2 hours. On cooler days, let the dry overnight.
We found it easier to let the neck of our bottle uncovered and decided to tie a satin ribbon around the neck of the bottle and then finished it up with a satin ribbon bow glued onto the front. Let dry.
Your new bottle vase is now ready to hold some freshly picked flowers!
* This post contains affiliate links. If you make a purchase, we may or may not receive a small commission which helps to support this site. Thank you!