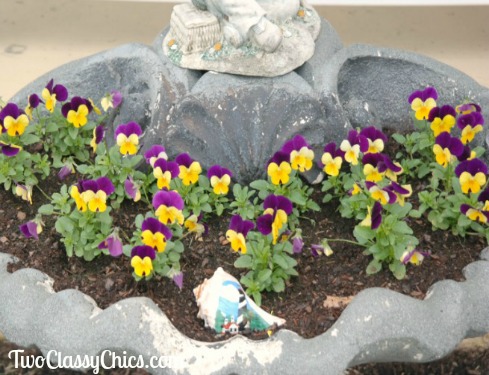 Ten years ago my husband bought me a gorgeous birdbath and water fountain combo which I absolutely LOVED. The bowl portion of the bird bath is done in a large seashell shape and the top had floating ball with water fountain. When it was new, it looked gorgeous but over the years, it's fallen apart.
A nasty storm destroyed the water fountain portion about two years ago, so we've only been using it as a regular birdbath. Hubby was going to haul it to the dump last month as it's in pretty awful shape, but I saw some potential. I decided to turn the birdbath into a flower planter for my garden.
Here's how you can turn your own birdbath into a flower planter.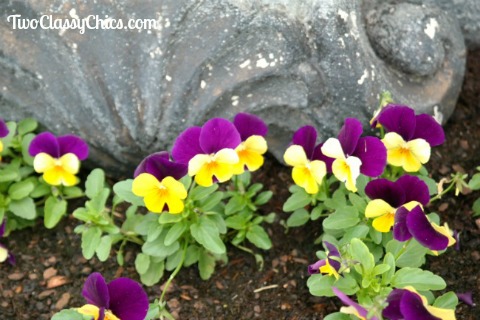 Give it a good cleaning. If it has any cracks, you'll find to fill them with outdoor calking. If the exterior is looking nasty, you can purchase outdoor "textured pebble finish" spray paint and repaint the exterior.
Since it will be turned into a flower planter, you'll need to drill some water drainage holes into the bottom. We used a 1/2″ drill bit and drilled several drainage holes into the bottom. We then added 3″ of river rocks into the base and filled the rest of it up with planting soil and dirt.
You're now ready to plant your flowers inside. For mine, we went with all one type – purple & yellow pansies. You can plant just about any type of flowers or plants inside it. Once your plants are in, make sure you give them a good watering and some fertilizer to help get them going.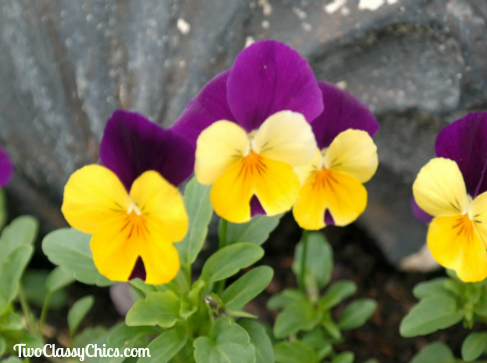 Along with my pansies, I added a hand-painted conch shell to add some flair, since I decorate in a coastal and beach theme. On the top where my water fountain used to run, I added an old frog who's sitting while fishing. It cover's up the hole where the motor was housed for the water features. With that said, I'm currently looking for something more beachy, like a ceramic mermaid to sit on the top.
Well, there you have it! My current DIY gardening project. So, if you have an old birdbath sitting around, don't be afraid to turn it into a nice flower planter for your garden!
* This post contains affiliate links. If you make a purchase, we may or may not receive a small commission which helps to support this site. Thank you!