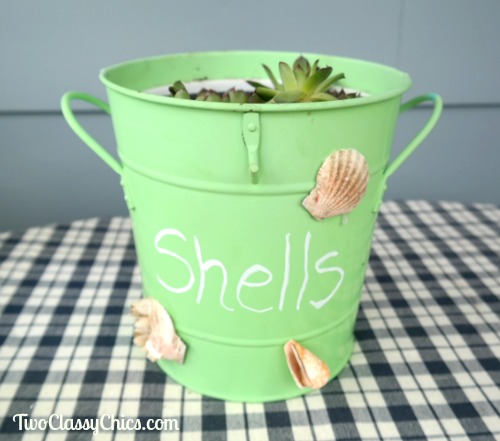 Three weeks ago I stopped into a local Family Dollar Store that was going out of business. Everything in the store was 10% to 50% off on the day that I was there. While browsing around there store, I found these metal sand buckets with metal shovels on sale for $4.00 each and then I got 50% off, bringing the price down to $2.00 each. Wow, what a deal! I knew as soon as I saw them that they would make the perfect garden and flower planters!
Since I decorate in a beach and coastal theme, I decided to decorate my metal sand pail with some seashells and wordage. I used a white chalk marker and hand wrote the word Shells on one side and the word Beach on the other side.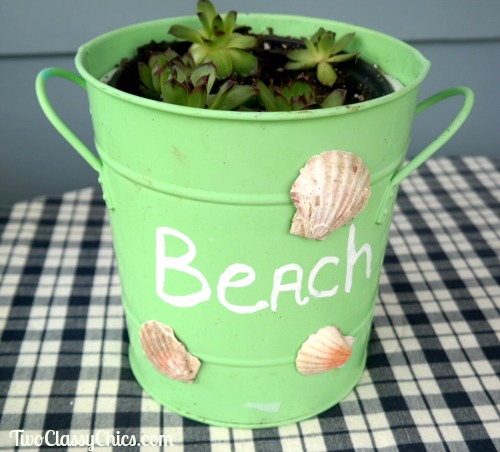 Using E-6000 Adhesive Glue, I randomly glued on a few scalloped seashells that I already had on hand and left it dry overnight to allow the glue to set.
My sand pail came with a non-removable white plastic liner. You'll want to add about 3″ of gravel into the bottom and then place your top soil on top. This will help with water drainage and keep the roots from your plants from rotting. If your bucket is large enough, you may be able to set a garden center planter right down inside the pail and avoid adding the gravel altogether, that's entirely up to you.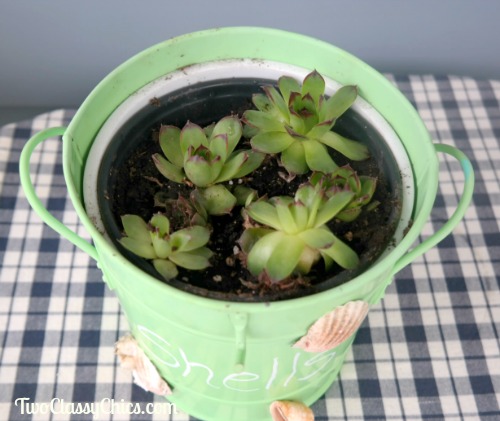 You can plant all kinds of things into these metal sand pails and for the one that I'm featuring today, I placed some Cats & Kittens (Chicks & Hens) into it which look really nice. These are succulents and are very easy to grow. Mine come back year after year and multiply all of the time! A great choice for beginner gardeners!
You can grow succulents indoors or out, or a combination of both! Some of my potted ones I'll bring indoors during the winter season and they do just fine. The one's that are planted directly in my flower beds…come back year, after year.
* This post contains affiliate links. If you make a purchase, we may or may not receive a small commission which helps to support this site. Thank you!