Several weeks ago my mother and my aunt were both diagnosed with various type's of cancer. After numerous tests, surgery and biopsies, both have now moved onto their treatment plans which includes chemo and radiation. As a family, we're all pitching in to help and to support them.
Recently I was sent "The Essential Cancer Treatment Nutrition Guide & Cookbook" from Robert Rose (one of my favorite publishers) to review for all of you. This book is a nutrition guide that includes 150 healthy and delicious recipes.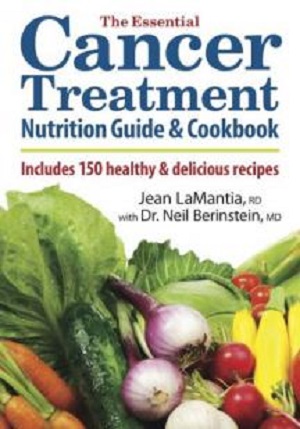 Title: The Essential Cancer Treatment Nutrition Guide & Cookbook
Authors: Jean LaMantia, RD and Dr. Neil Berinstein, MD
Publisher: Robert Rose
ISBN: 978-0-7788-0298-3
Book Synopsis: Good nutrition is essential to the health of all cancer patients because it enables them to better cope with cancer treatments and enjoy a better quality of life. Thoroughly researched, with an easy-to-understand approach, this book helps patients and caregivers understand the role of nutrition during cancer treatment and provides nutritional strategies for managing specific side effects and concurrent conditions. It answers the basic questions patients have about cancer, reviews the steps they go through during treatment, offers an overview of complementary cancer therapies, and describes lifelong healthy eating practices that will help keep cancer at bay. The comprehensive information and survivor wisdom found within the pages will make cancer patients feel empowered about their health.
The book provides information on: Conventional Cancer Therapies, Managing Side Effects & Concurrent Conditions, Complimentary Cancer Care, Your Nutrition Toolbox, Menu Planning for Side Effect Management, Reviving Breakfasts, Restorative Soups & Uplifting Light Meals, Encouraging Main Dishes, Recuperative Vegetables & Calming Sauces, Comforting Grains & Potatoes, Sustaining Snacks, Nurturing Desserts, Soothing Ice Pops and Refreshing Beverages.
Examples of Recipes: Honey Butter, Green Power Smoothie, Creamy Oatmeal, Breakfast Rice, Oatmeal Pancakes, Chicken Noodle Soup, Carrot and Ginger Soup, Leek & Sweet Potato Soup, Chunky Vegetable Lentil Soup, Curried Split Pea Soup, Cheesy Salmon Loaf, Sweet Potato Omelet, Turnip Gratin, Classic Scalloped Potatoes, Gingerbread Cake, Harvest Raisin Cake, Chewy Molasses Squares and more!
* This post contains affiliate links. If you make a purchase, we may or may not receive a small commission which helps to support this site. Thank you!

Disclaimer: Shelly received complimentary products to feature in this blog post. Shelly did not receive any monetary compensation. Shelly's thoughts, opinions and words are 100% her own unbiased opinion. Your thoughts may differ.