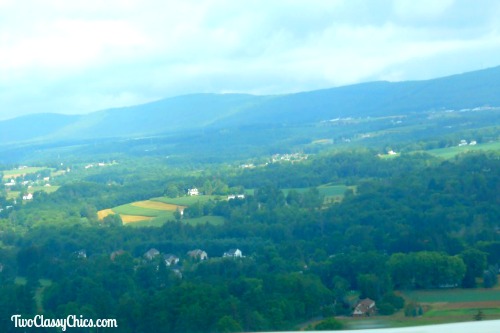 Time for our weekly travel feature and for this week, I wanted to do something just a little bit different. Usually I focus on a particular destination, activity or something related to a particular place.
Today, I'm going to share a few photographs with you that I took that shows the Pocono Mountains in Pennsylvania and what we saw on our drive up to Mount Pocono from the Hershey area.
The total drive takes us around 2 hours…sometimes a little longer, depending on traffic and road construction. Once you get out of the city and onto the interstate leading up to the Poconos, the drive is relaxing and gorgeous!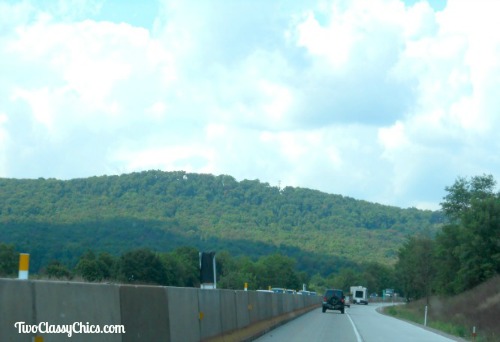 The photos were taken during late summer last year. We're hoping to take the drive again during the fall season, so that we can see some of the beautiful fall foliage that this area has to offer. Thousands of people flock to the area during the fall foliage season, so that's on our bucket list for later this year.
It was extremely hot on this particular day (near 95 degrees) so the photos show you how hazy the valley and mountains were thanks to the hot temperatures and high humidity. Seriously, I could of cooked an egg on the sidewalk, it was that hot! We had to keep our windows up and the air conditioning on full blast. Once we finally got up into the mountains, the temperatures were a lot more bearable.
During our drive up there…we saw miles upon miles of mountains and several beautiful valleys. For the most part, population is spread out along the particular route that we took, so we saw hundreds of miles of beautiful greenery. Every once in awhile, we would see a small town along the way.
If you've never visited the Pocono Mountains, it's a beautiful place! It's often a destination for honeymooners! It's also the home of the Pocono Raceway (think Nascar races), home of Mount Airy Casino, various indoor waterparks, ski lodges, snow tubing, campgrounds and all sorts of other things. Truly a nice vacation destination for those who are looking to spend some time in the mountains.
There you have it! A little sneak peek of the gorgeous scenery and mountains that you would see if you're driving into or through the Pocono Mountains!
* This post contains affiliate links. If you make a purchase, we may or may not receive a small commission which helps to support this site. Thank you!