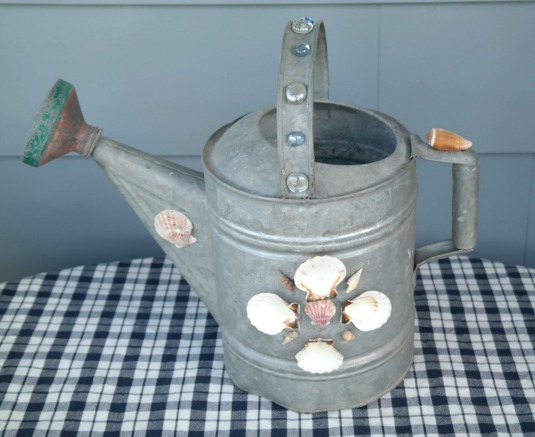 Back in late April I went to the flea market and found this beautiful vintage metal watering can and just had to have it. What really surprised me is that the seller only wanted $3.00 for it and trust me, that was a BARGAIN PRICE, since vintage metal watering cans can cost a pretty penny. For it being from the early 1970's, it was in great shape and I loved the weathered patina.
From the time that I saw it…I knew that it would make a great flower planter in my garden. We decorate in a coastal & beach theme, so to make it work…I would have to add some finishing touches to it. I didn't want it to look like it belonged on a country farm!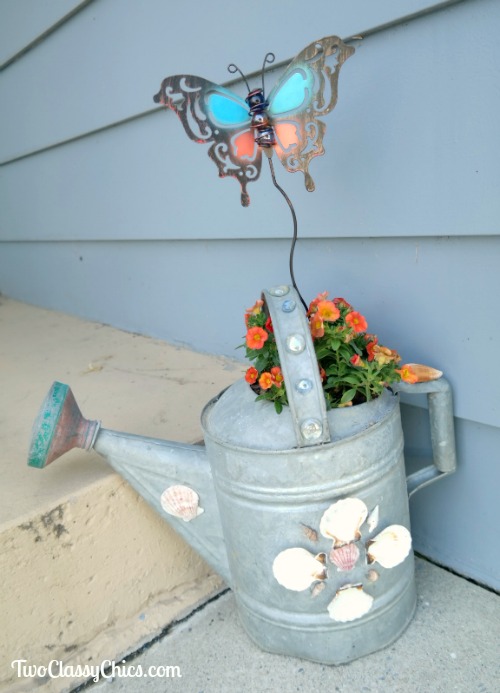 I brought the metal watering can home and gave it a good cleaning. Once it was dry, I had my husband drill eight 1/4″ diameter holes in the bottom. These holes will allow water to drain out, so the roots of my flowers won't rot. I then filled the bottom 2″ of the can with river rocks and then potting soil on top.
You can paint all kinds of cool designs onto these old metal watering cans or you can do something like what I did. Here's how I turned mine into a beautiful piece that fit's right in with my coastal and beach landscaping.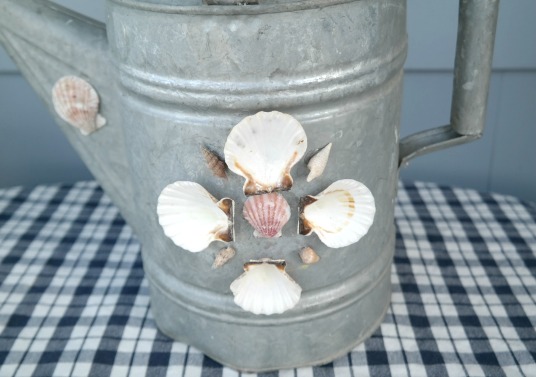 DIY Vintage Metal Watering Can Garden Planter
Vintage Metal Watering Can
Variety of Seashells in Different Styles and Sizes
E6000 Adhesive Glue
Fine Grade Sandpaper
Faux Sea Glass Stones (mine are clear and light blue)
Frosted Scotch Tape
Sharpie Marker
Notes: I like using the frosted Scotch Tape as it's easier for me to see and easier to peel off. When using the E6000 Adhesive Glue, protect your work surface and your hands, it's very strong and hard to get off your surfaces/fingers.
Use the fine grade sand paper (lightly) on the metal where you want to place your seashells. I find that I get strong hold with the adhesive when I slightly rough up the surface. With that said, you can totally skip that if you want.
Plan out your design ahead of time and mark on your can with a Sharpie Marker where you want to place your items.
* This post contains affiliate links. If you make a purchase, we may or may not receive a small commission which helps to support this site. Thank you!
Squirt drops of E6000 Adhesive Glue onto one side of your seashells and sea glass stones. Immediately place them one at a time onto the metal watering can. If they start sliding around, use pieces of the frosted Scotch Tape to hold them into place until the glue has dried. I left mine sit overnight. The next day, carefully peel the scotch tape off and discard it.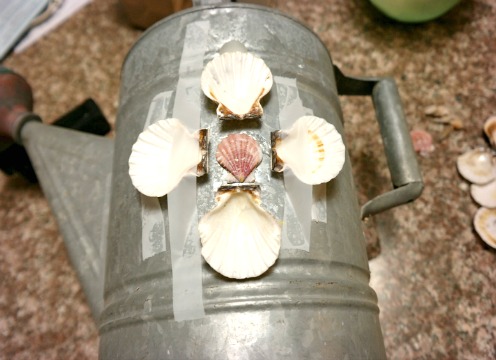 Optional: You can spray the outside of your watering can with clear acrylic sealer in a matte or glossy finish. I chose to NOT spray mine with any type of sealer, but did want to mention that it's an option for those of you who leave your items outside year-round. I always store my items away during the winter season.
That's it! Now you can plant your flowers inside the metal watering can!
* This post contains affiliate links. If you make a purchase, we may or may not receive a small commission which helps to support this site. Thank you!