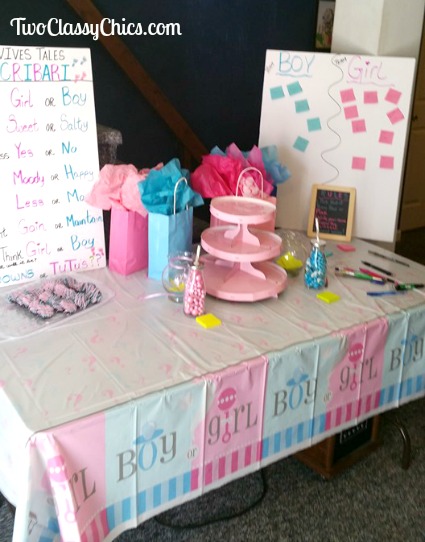 Every time I turn around there is a new baby shower to host or a new one to attend. All of my friends (including myself) have been having babies the past few years and one hot trend among us all is…Baby Gender Reveal Parties!
If you've never attended one before, it's a baby shower held for the parents-to-be or the mom-to-be where the gender of their baby is revealed. Often times, they don't know the gender themselves and it's revealed by a friend or family. At other times, they're aware and surprise their party guests with the big news!
Looking for a few cute & easy Baby Gender Reveal Party Ideas? We've got a few to share with you today!
– As you can see with the table spread in the first photo, your main table doesn't have to be elaborate or contain expensive party decorations! This table has a theme'd table cloth, pink & blue gift bags (contain gifts for the party games), a lazy susan to hold the cupcakes, plastic bottles that hold pink & blue candies, a quiz board with questions for guests to answer about the mom-to-be and/or the dad-to-be (to be used as a party game), a little fish bowl with post-it-notes (for guests to write down their names & if they think it's a boy or girl) and other little odd's & ends!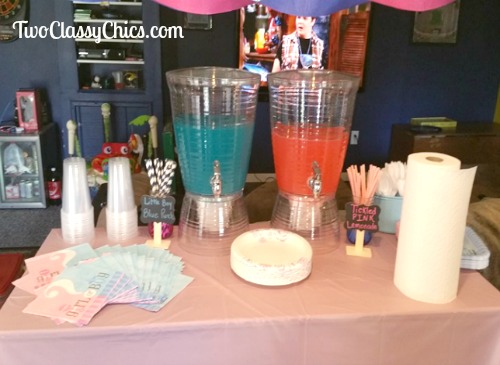 – Over on one of the food tables the host has two punch dispensers, one features blue raspberry punch and the other one contains pink fruit punch. To continue on with the party theme, there is a colored table cloth, paper plates, pink & blue napkins, plastic utensils and more! Tip: Don't over-crowd your food tables, if needed, use more than one!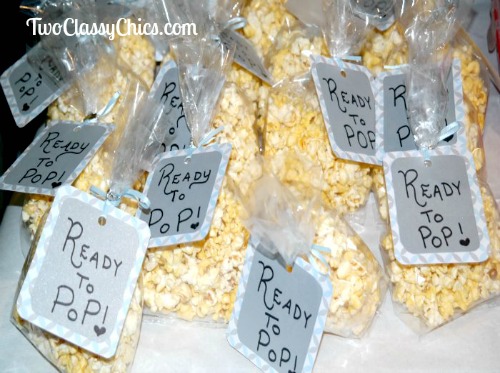 – Looking for a little grab-n-go snack to serve at the gender reveal party or even at a regular baby shower? These "Ready to Pop" popcorn treat bags are super easy to make and are inexpensive! Guests can eat their popcorn at the party or take it home with them.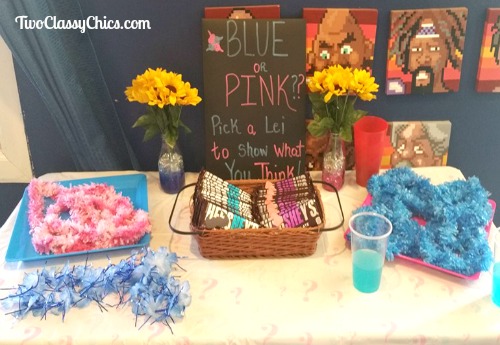 – Finally, Check out these Gender Reveal Party Favor Ideas! When guests first arrive to the party ask them do they think the mom-to-be is having a girl or a boy? According to their answer, they get to select a lei and wear it around at the party. Guests can select a coordinating HERSHEY'S chocolate bar which spells out HE or SHE. To set the festive mood on the entry table, the host had to little glass vases with colored water (food dye) and a few fresh flowers which was nice!
We offer up a variety of different party games when we host gender reveal baby shower parties!
– Mom-to-be or Parents-to-be Quizzes – Ask questions about mom and/or dad and the person with the most correct answers win's a prize.
– Have party guests guess how many colored candies are in each bottle? You can put the candies in little glass bottles or better yet, fill up some baby bottles & after the party, let the new mom-t0-be take them home!
– Boy or Girl guessing game! Ask each guest to predict the sex of the baby. They will write their name and their guess onto a pink or blue post-it-note and stick it to the board. Once the announcement has been made, all guests who guessed correctly win a little prize!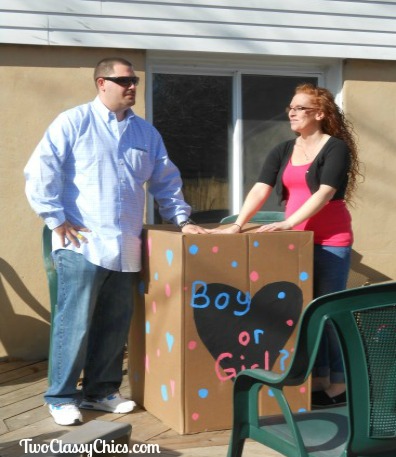 If the parents don't know the gender of the baby yet…you can do a surprise gender reveal box. Have the doctor or ultrasound technician tell your best friend or a family member the sex of the baby. That person then decorates a large box and fills it with either pink or blue balloons. At the party, the expected parents open the box to find out the gender of the baby. At my party my best friend filled the box with blue balloons, since I was expecting a baby boy. My husband and I were super excited to learn the sex of the baby at our party. Fun!
You can do all kinds of fun things at a Baby Gender Reveal Shower Party and we hope these ideas have sparked some creativity in you! Enjoy!