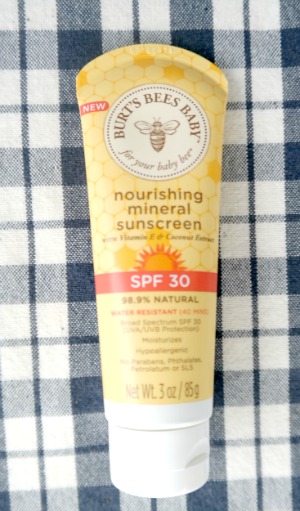 Three years ago we had a swimming pool put in our backyard for the entire family to enjoy. We spend a lot of time in our pool from May through September. As avid swimmers, we know that it's important to protect our skin from the sun.
* Complimentary Product Sample Received for Review.
This year my little grandson is getting his first experience in our pool and so far, he's been loving it. To protect his delicate skin, we've been using Burt's Bees Baby Bee Nourishing Mineral Sunscreen.
This mineral-based sunscreen is 98.9% natural and water resistant up to 40 minutes at a time. It's a nourishing, mineral sunscreen with Vitamin E and Coconut Extract. Product contains no parabens, phthalates or petrolatum and offers SPF 30 UVA/UVB protection.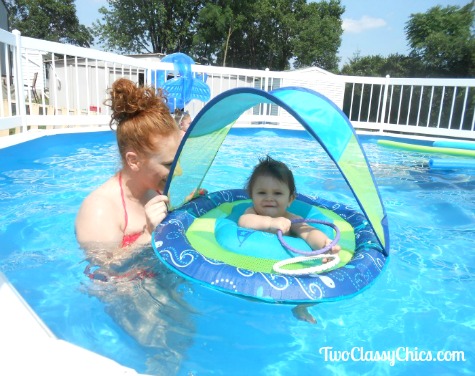 One of the things we love about this product is that the formulation is lightweight and fast-absorbing. It's not one of those thick and creamy formulations that takes forever to rub-in and absorb. In addition, it doesn't have any foul odor to it and it spreads across the skin evenly. There is nothing greasy or oily about it.
We've used the product on my grandson three times already this season and I'm extremely impressed with the results. His delicate and sensitive skin has had no irritation from the product at all. Furthermore, no sunburn at all. Yay!
You can learn more about Burt's Bees Baby Bee Nourishing Mineral Sunscreen by visiting Burt's Bees online. You can find it at various retailers across the nation. Connect with Burt's Bees on Facebook too.

Disclaimer: Shelly received complimentary products to feature in this blog post. Shelly did not receive any monetary compensation. Shelly's thoughts, opinions and words are 100% her own unbiased opinion. Your thoughts may differ.