When it comes to food, fresh bananas and chocolate are two of my favorite things and if you combine them together??? It's even better! I love chocolate & banana flavored cookies, cakes, cupcakes, pies, ice cream, bread and all kinds of other things. I just love blending those two flavors together!
Last month my mother and I whipped up a batch of homemade banana chocolate chip cookies and they were absolutely delicious! Since you're adding mashed up bananas to the cookie batter, it really adds a nice flavor & gives you a super-moist cookie. I love snacking on them and if I'm in a hurry, I eat them for a quick breakfast too! YUMMY GOOD! Here's the recipe!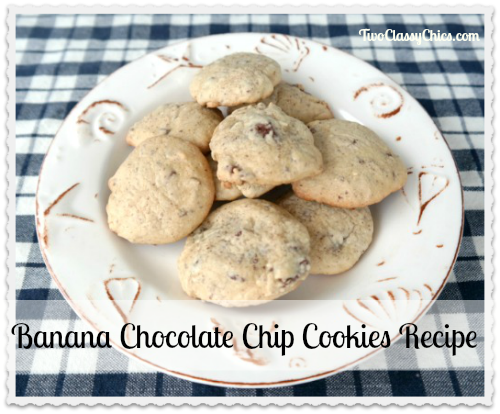 Banana Chocolate Chip Cookies Recipe
1/2 cup butter, softened
1 cup granulated sugar
1 large egg
1 cup mashed ripe bananas
1 tsp. baking soda
2 cups all-purpose flour
1/4 tsp. salt
1/2 cup semi-sweet chocolate chips
In a large mixing bowl cream together the softened butter and granulated sugar using an electric hand mixer. Beat in the large egg until combined. In another large mixing bowl mashed up the bananas with the baking soda. Let this mixture sit for 3-4 minutes and then beat the banana mixture into the first mixing bowl. Mix together the all-purpose flour and salt until combined. Beat this mixture into the first batter bowl and then fold in the semi-sweet chocolate chips by hand.
Preheat oven to 350 degrees F. Lightly spray your baking sheet with some non-stick baking spray, only ONE TIME, don't spray it again in between your batches, once is enough. Drop the cookie dough onto the baking sheet using a tablespoon and leaving 2″ of space between each cookie. Bake in a preheated oven for 8-10 minutes or until done. Remove and let them cool on a wire rack and then store cookies in an airtight container.
Tip: I enjoy snacking on warm cookies, so I will place 3-4 cookies on a paper towel and heat them up for 10 to 12 seconds in my microwave oven. Delicious!
* This post contains affiliate links. If you make a purchase, we may or may not receive a small commission which helps to support this site. Thank you!