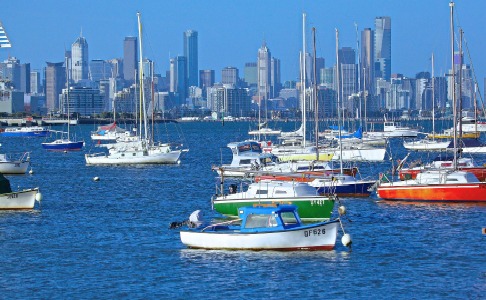 Image Credit: Pixabay
Melbourne is the capital of Victoria and Australia's second-largest city. It's is a city with one eye fixed on the past and another on the future. It is known for its passion for food, coffee, fashion and art, as well as a fanatical love for the creative arts and good living.
Melbourne go well beyond the concept of 'sight-seeing', offering richer, deeper experiences where guests get to touch, taste, connect and learn. Visitors appreciate its restless creative energy as well as its distinct enclaves.
Have an extravaganza Melbourne Tour
Melbourne's Paris End, the east end of Collins Street, is filled with designer boutiques, classy hotels and cafes. This is probably the closest you can get to Paris in the southern hemisphere. You can travel Melbourne in 5-star-luxury style while staying in one of its leading hotels, or in the intimacy of a growing number of Melbourne boutique hotels.
There are numerous exclusive high end shops carrying the best in upmarket haute couture, designer fashion and accessories. This is also the place to lavish on excellent food and wine, to get pampered in a health spa, or to splurge on the riches of Melbourne culture with nearby theatres, heritage buildings and arts precincts.
Travel Melbourne in Your Own Style
One thing about Melbourne is that if you don't know where to look, it is easy to miss the real treasures. To get an insider Melbourne view, it is worthwhile taking one of the smaller intimate tours run by locals. That way you are not just scratching the surface. But get the idea of Melbourne landmarks attractions:
• Tour Melbourne's historic city attractions such as Federation Square, The Melbourne Museum or the Queen Victoria Market in a limousine ride. As you can see the prices here for a limousine for hire they are offer affordability without compromising on quality.
• Visit The Yarra Valley and enjoy winery tours in beautiful countryside adventures.
• Enjoy a wildlife trip to the Werribee Wild life Park or a fascinating trip to the world renowned Melbourne Zoo.
• Splendour in an amazing coastline and also have tour along the Great Ocean Road and marvel at attractions along the way such as the world famous 12 Apostles
• Other options to enjoy in Melbourne may include a visit to historic Daylesford and the Macedon Ranges to experience world class Spas and relax the day away.
Travel Information and Bookings
To book accommodation, you are best off using the internet. That way you will get discounted hotel rates. The rack rate that you get when booking a hotel directly can be five times higher than the discount rates.
What better way to start your journey in Australia's Cultural Capital, than being met by a smiling face ready to assist you in any way possible, with the reasonable pricing and best services.
You will be able to book a lot of activities through websites, in the near future. Since we embrace all that Melbourne has to offer and appreciate what a diverse city it is.
Hotels in Melbourne also offer customers:
• Comfort and reliable on-time performance.
• Confidential and discreet services
• Convenience of upfront rates
Our friendly, professional team are committed to the very best excellent rates and smiling services.