If you look at pictures of celebrities in gossip magazines or online and envy their thick, lustrous locks, and wonder why your hair never looks the same, be aware: many of them are actually using hair extensions to get the amazing effect!
This fashion trend has become huge over recent years, not just with famous faces but with women from all walks of life. A big part of this growth stems from the secret getting out, in addition to the fact that hair extensions cost less than ever before as their popularity has risen. If you're thinking of buying some today to glam up your look, read on for the lowdown on everything you need to know.
The Different Types of Hair Extensions
When it comes to purchasing hair extensions, it's important to know that there are different types on the market you can choose from. For example, extensions can be made from either human hair or from synthetic materials. The preference for most people is human hair, because it obviously gives the most natural-looking results, and can be treated just as you would care for your own hair.
Synthetic hair, on the other hand, is of lower quality, and is easier for people to pick up as being a "fake" addition to your head of locks. If you have the funds to go all out, consider opting for "virgin" human hair. This means that the hair has never been processed or colored, and can therefore be styled (e.g., curled, ironed, and cut), as well as colored, in a way that the lower-quality hair extensions cannot.
When selecting permanent hair extensions, you'll have a few choices. There are the tape-in extensions which are attached to the roots of hair with double-side tape and have customizable wefts; or the sew-in extensions (also called weaves) which are small strips of hair (wefts) which are woven in using thread once your natural hair, at the nape, has been tightly braided. Both of these types of extensions have a "shelf life" of around six to eight weeks.
The more longer-lasting option is bonded extensions. Also called glue-ins, these extensions are bonded to your hair via hot, ultrasonic waves. They are more permanent than weaves or tape-ins, and last between three and five months.
If you want to opt for a short-term solution, take a look at clip-in extensions. These are not only more temporary, but also usually more affordable, and can be simply clipped-in at home, rather than needing a salon visit. When properly cared for, these extensions can last very well too, even up to two years.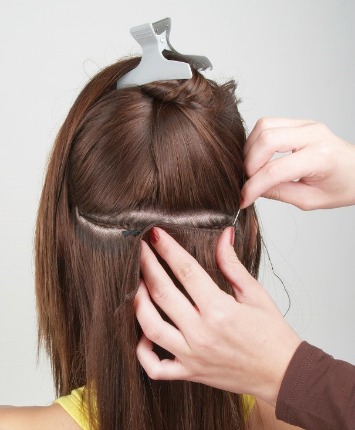 How to Choose and Use Hair Extensions
For starters, it's a good idea to buy extensions from a salon or outlet that specializes in the products and that has a good reputation, so that you don't waste your money. It pays to purchase the best-quality hair you can afford so that you can re-use the hair for longer and get the most value.
As you compare options, keep in mind the end result that you're after. Extensions aren't just used to add length, after all, but also to add volume. Indeed, hair extensions can be perfect for adding volume to fine, thinning or limp hair, as well as just more mane to standard heads of hair.
If it is length that you're after, it is important to note that you can use extensions as long as your existing hair is three inches long or more, although if your hair is very short your transformation can be somewhat limited. If you want to have a hair style that is versatile and wearable, you might want to buy just a half head of extensions (or opt for clip-ins), as this will allow you to put your hair into lots of different up-dos.
For people who want a natural, or more customized look, individual strands can be the best choice. Using these you can fill in spots through your mane that need it more than others, as well as play with the color or length.
If you choose clip-ins, it pays to go down the color-matching route. If you don't, you can find that an artificial-looking hue will give away your extension secrets all too quickly. As well, it helps to opt for sets which have silicone-covered clips, as this helps to protect your own hair from damage.
Pros and Cons to Keep in Mind
The pros of hair extensions are, of course, the things that have made millions of women fall in love with them around the world — they allow you to get longer, thicker and more lustrous looking locks quickly, as well as to change your hair style on a whim.
The cons, on the other hand, aren't talked about quite so much. There are a few things to be wary of. For starters, hair extensions obviously add to your yearly styling bills, plus there are plenty of shoddy operators out there that sell products which aren't of good quality, or stylists who don't know how to apply extensions in a proper manner.
Another issue to keep in mind is that the older-style glue-in hair extensions can be damaging on your hair, while extensions which are heavier than your own tresses can break off hair too. As well, don't forget that if you opt for synthetic hair extensions, you often won't be able to style your hair, as heating (via blow dryers, curling irons, and the like) can damage the fibers.