Last Fall my husband and I invested in a new glass top stove and I have to admit, I absolutely love it. This new range has all of the modern features you would want in a new stove. I have the warmer drawer underneath the oven, the oven is self-cleaning and it's a nice size and I've got 5 burners on my glass cook-top. The burner in the back center is a smaller one that is used mainly to keep things warm.
It has other great features too! It has an easy to use kitchen & cooking timer that makes my job a whole lot easier and I absolutely love the oven light! I forgot how nice it was to have an oven light, since my bulb in my old oven blew out years ago! My new range also features a warning light to remind you that your cook-top is still hot, even after you've turned your heat source off. The light automatically goes out, when the stove-top is back to room temperature.
The ONLY thing I don't like about having a glass top stove is that it can be tricky to clean! We use our stove at least twice a day and trust me, it can get messy pretty quickly. The burnt on gunk on that glass top can be hard to scrub off.
In the past few months I've tried many homemade and store-bought glass-top stove cleaners and frankly, none of them worked perfectly. I was either disappointed with the stinky smell of the product, the time consuming effort of scrubbing the gunk off and at times…the gross streaking that the product left behind.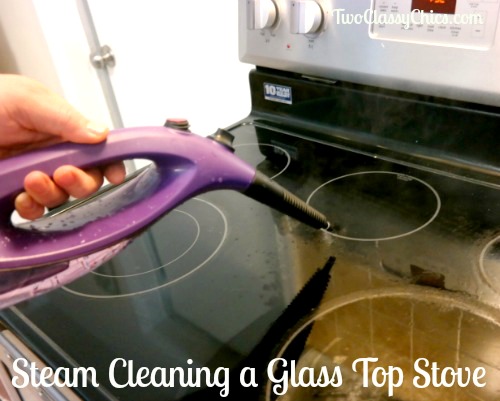 Then it dawned on me! I own a handheld steam cleaner that I use on various household cleaning projects and never thought about trying it out on the top of my stove. Well, until now.
Within 4-5 minutes of using my handheld steam cleaner on the top of my stove, all of the burnt on gunk was gone! On top of that…it left no streaking behind and of course, no foul chemical odors, since it uses just hot water to clean. I can't believe that I didn't think of using that steam cleaner before!
The window of my oven door was getting greasy and gunky looking, so I used the handheld steam cleaner to blast off the grease & gunk from that too. Within 2 minutes, the window was sparkling clean and streak-free!
So ladies, if you have a glass-top stove (range) and are looking for a super-easy way to clean off the gunk, grease and debris, I highly recommend getting yourself one of those easy-to-use handheld steam cleaners! I typically use mine to clean windows, mirrors and things in my bathrooms, but heck…it's fantastic for cleaning things in the kitchen too!
I personally own & use the Visio Window Steam Cleaner which I've reviewed here on this blog previously and it's the same steam cleaner that I'm now using to clean my stove and oven! You can check out my previous review if you're interested in learning more about this specific steam cleaner.
* This post contains affiliate links. If you make a purchase, we may or may not receive a small commission which helps to support this site. Thank you!