Sweet potatoes have become an increasingly popular and flavorful addition to the American culinary lineup. These tasty tubers, loaded with Vitamins A & C and high in fiber, have become an essential ingredient in the kitchens of professional chefs and home cooks alike. In fact, to meet skyrocketing demand, U.S. growers produced a record-high 3.1 billion pounds last year, more than double the levels they produced in 2000.
This recipe is courtesy of Nielsen-Massey and will make approximately 10-12 servings.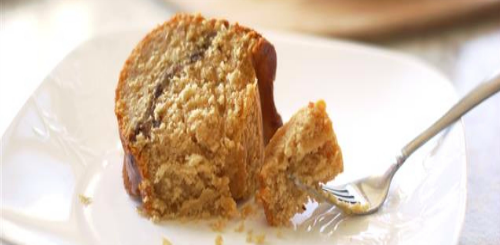 Sweet Potato Bundt Cake Recipe
For the Sweet Potato Cake:
3 cups all-purpose flour
1 ½ teaspoons baking powder
½ teaspoon baking soda
1 teaspoon ground cinnamon
½ teaspoon ground ginger
½ teaspoon salt
3 large eggs
2/3 cup granulated sugar
2/3 cup lightly packed brown sugar
¾ cup (1 ½ sticks) unsalted butter, melted
1 ½ cups cooked and pureed sweet potato
1 tablespoon Nielsen-Massey Mexican Pure Vanilla Extract
1 ½ cups buttermilk
For the Cinnamon-Pecan Swirl:
2 tablespoons lightly packed brown sugar
1 tablespoon granulated sugar
1 teaspoon ground cinnamon
¼ cup finely chopped pecans
For the Cream Cheese Drizzle:
2 tablespoons (1 ounce) cream cheese, room temperature
2 tablespoons unsalted butter, room temperature
1 cup powdered sugar
¼ teaspoon Nielsen-Massey Mexican Pure Vanilla Extract
2 tablespoons whole milk
Preheat oven to 350 F. Butter and flour a 12-cup Bundt pan, making sure to thoroughly grease all crevices in the pan. Set aside.
In a small bowl, combine all ingredients for the Cinnamon-Pecan Swirl. Set aside.
In a medium bowl, sift together the flour, baking powder, baking soda, cinnamon, ginger and salt.
In a large bowl, whisk together the eggs, sugars, melted butter, pureed sweet potato, vanilla and buttermilk. Gently fold in the dry ingredients, stirring until just combined.
Pour half of the cake batter into the prepared Bundt pan, smoothing evenly over the bottom of the pan. Sprinkle on the Cinnamon-Pecan Swirl, then gently spoon on the remaining batter, smoothing out the top.
Bake for 65-75 minutes, or until deeply golden on top and a thin skewer inserted into the center of the cake comes out clean. Allow to cool in the pan, then invert onto a wire cooling rack and allow to finish cooling before glazing.
In a small bowl, beat together the butter and cream cheese with an electric mixer. Add in the powdered sugar, vanilla and milk, mixing until well combined. Use a spoon or pastry bag to drizzle over the cake before serving.
* This post contains affiliate links. If you make a purchase, we may or may not receive a small commission which helps to support this site. Thank you!