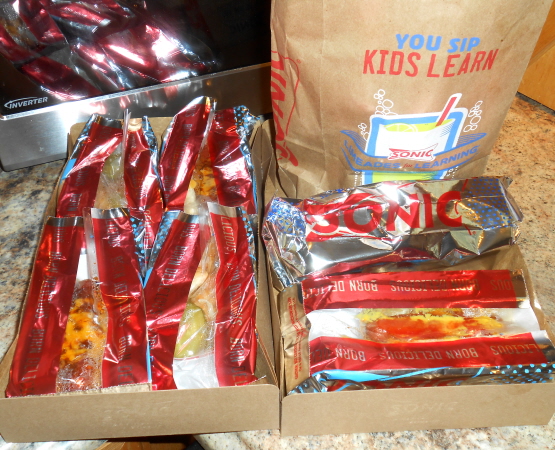 During the week I am very busy and during the weekends, it's even worse. At least 6 days a week I am running non-stop from 5 AM to 10 PM at night. While I would love to make home-cooked meals 3 times a day, it is just not feasible with the schedule that I keep.
When I am out running around and need a good hot meal, I like to turn to Sonic Drive-In who has an extensive menu and everyone in my family can find something that he or she likes. They aren't just another fast-food burger joint on the block. Nope, they are different, at least in my honest opinion.
Let's take a look at some of their new menu items for Spring and Summer 2017. Some of these are only offered for a limited time!
Lil' Chickies
* Buffalo Lil' Chickie with SONIC's tangy Buffalo sauce
* Honey BBQ Bacon Lil' Chickie topped with honey BBQ sauce and bacon
* Classic Lil' Chickie with Mayo & Pickles
Lil' Doggies
* Ketchup & Mustard Lil' Doggie topped with your classic ketchup & mustard
* Chili Cheese Lil' Doggie topped with chili and cheese
* Cheesy Bacon Lil' Doggie topped with cheddar cheese sauce and bacon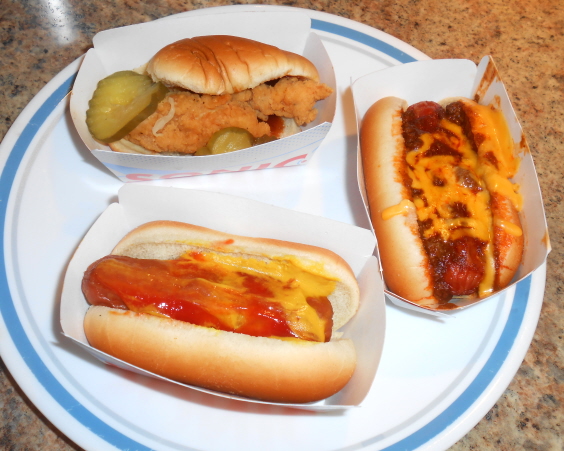 We are already HUGE fans of Sonic Drive-In and were super excited that they sent us a gift card to go out and pick up their new 2017 menu items and give them a try. I have to admit, we've tried a few of these flavors before, but not all of them. Since we had the grandchildren along with us, we ordered all 3 of the Lil' Chickies and all 3 of the Lil' Doggies along with beverages for each of us.
Our grand daughter went for the classic Lil' Doggie with just ketchup & mustard. It is the perfect size for those with little hands like your kids & grandchildren. It is a size they can handle and has just your classic ketchup and mustard topping it. Hubby enjoyed the Chili Cheese Lil' Doggie and the BBQ Lil' Chickie. He said both were very flavorful, had a nice juicy texture and even though they are Lil's they filled him up just fine.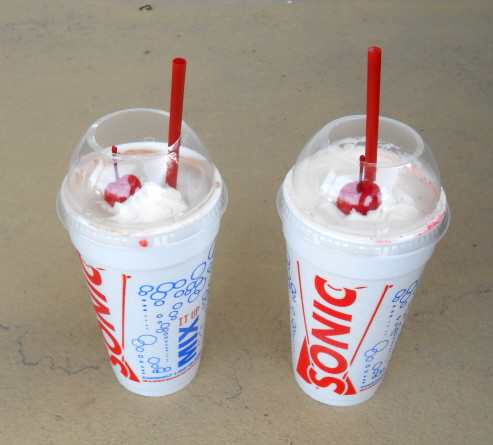 I decided to try the Buffalo Lil' Chickie with Sonic's tangy buffalo sauce on the top. This Lil' Chickie was very flavorful with just enough tang to it to satisfy your taste buds without it being too much.
Now…I want to mention the Sonic Drive-In Beverages now that the warmer weather is here. When it comes to casual and fast-food restaurants, Sonic definitely has the best cold beverages! You'll find icy-cold frozen drinks, delicious & creamy milkshakes, iced teas, lemonades, limeades, soft drinks, fruit juices and some of the best iced coffees! They have something delicious to wet your whistle and to cool you down!
When we are having a super busy day and need to grab a hot, quick bite to eat…the Sonic Drive-In is the first place we turn too. We can all find something on their menu that we like, we get fast service and everything always tastes delicious!
Do you visit Sonic Drive-In and if so, what do you typically order? Have you tried any of the new menu items that I spoke about in this blog post? If so, what did you think of them?

Disclaimer: Sonic Drive-In provided me with a gift card to go out and try their new menu items. Regardless of receiving the gift card, my thoughts and opinions about these items are 100% honest and my own. They have not been influenced by the company. Your opinions may differ.